Katherine Schwarzenegger & Reese Witherspoon Are Both Obsessed With This Basket Bag
Matt Winkelmeyer/Getty Images Entertainment/Getty Images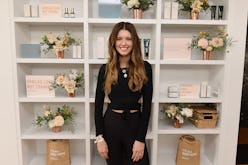 Labor Day weekend 2019 was synonymous with beaches, barbecues, and Clare V.'s Pot de Miel tote, apparently. The quintessential ode-to-summer basket bag completed both Katherine Schwarzenegger and Reese Witherspoon's holiday wardrobes, proving that perhaps it isn't just a warm-weather accessory after all.
You know a bag is good when two highly stylish celebs wear it within days of each other. Witherspoon's traditional Southern belle aesthetic is quite different from Schwarzenegger's tendency to push trends, but one rattan purse helped bridge the gap between them this past weekend.
Clare V.'s under-$200 carryall isn't exactly new, seeing as Witherspoon has kept it in rotation for over a year now. The actor did, however, switch it up on Sun. by changing out the black crossbody link strap she usually wears it with for an earthier-looking nude one.
Schwarzenegger, on the other hand, kept the black strap when she sported it on Fri., probably because it matched her jumpsuit so perfectly.
Resembling the shape of a honey pot, the nature-inspired bag is made of handwoven straw dyed either a cream or blush hue. It comes with a black leather top handle, but shoulder and crossbody straps can be purchased separately. Both Schwarzenegger and Witherspoon prefer to wear it over their shoulders.
Witherspoon has been carrying the basket bag since last July, typically with her signature denim jackets and flowery dresses. She put it away during the cold season but brought it back just in time for a summer 2019 debut.
Schwarzenegger hasn't had it for as long, but her styling of the accessory is proof that it pairs just as well with a low-key sweatshirt and jeans. That is to say: don't shy away from a woven basket bag on autumn's account. The woven trend is fall-approved, so if you haven't already, it certainly isn't too late to add one to your bag collection.
Clare V.'s bestseller and others like it, ahead.
Shop The Look