Searches Are Way Up For This Bag Trend On Etsy & You'll Love These 12 Styles
Etsy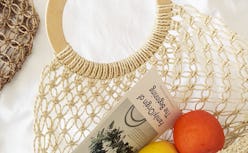 At this point, woven bags have become synonymous with summer. Whether they're made with straw, plastic, leather, or another material, the artisanal style is the unofficial accessory of the season — and it's not going anywhere. Once seen as the essential bag for warm weather vacations and beachside picnics, this accessory has transcended beyond its occasion-specific use. Now, it's a seasonal staple nearly every fashion lover has in their closet. To give you further proof of its staying power, there's been a surge of searches for woven bags on Etsy in the past few months. You know what that means — they'll be everywhere this summer.
According to statistics Etsy shared in an email, there have been over 40,000 searches in the past three months for the summery style on the online marketplace. And according to Etsy's Trend Expert, Dayna Isom Johnson, this number only makes sense. "Woven bags are a summer staple," Isom Johnson said. "This season I'm most excited about pieces that combine unexpected materials or textures with straw or raffia," she shared.
There are tons of classic woven totes and satchels available on Etsy to fill your closet. However — keeping Isom Johnson's insight in mind — this summer is also about unconventional embellishments and other details. And if you're looking for something that makes a statement, you're bound to find that, too.
To start with something undeniably timeless, opt for the Straw Market Handbag with Straw Handles, which you can carry from the beach to the market and costs $19.00. If you need something smaller for your everyday occasions, you won't go wrong with this $19.50 Natural Handmade Straw Bag. This effortlessly chic handbag also features a zipper to keep your things safe. Another cool option is this $18.89 Handmade Straw Woven Bag, which will be perfect for your next summer getaway.
Have a summer wedding or another formal occasion to attend? Wear the $36 J Renee Hard Shell Woven Handbag with your ensemble to give it a bohemian touch. Of course, the $42 1940's Woven Beaded Crochet Drawstring Purse is a polished piece you can style with a sleek slip dress. And if you're loving this season's micro bag trend, this $23.10 Tiny Woven Straw Box Handbag is one of the coolest iterations out there.
Scroll down to see more woven bags from Etsy to add into your summer wardrobe.
Shop Woven Bags