The Touching Reason Rachel Brosnahan Is The New Face Of Kate Spade's Frances Valentine
Frances Valentine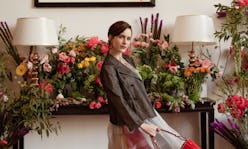 If you're a fan of Kate Spade, then you already know that she launched a label in 2016 called Frances Valentine. What you probably don't know is that the late designer was related to the star of your favorite series, The Marvelous Mrs. Maisel. Not only is Rachel Brosnahan Kate Spade's niece, but she's also the new face of the Frances Valentine brand.
The 28-year-old's year is off to a solid start, it seems, having already won a Golden Globe, a Critics' Choice Award, and a SAG Award for her role in the new hit Amazon show. Now, she's adding yet another thing to her plate, but it's for the most heartwarming reason.
The latest issue of People revealed that the actor will be venturing into the fashion world by becoming the face of the brand her late aunt, the iconic Kate Spade, founded two years before her death. Brosnahan will star in Frances Valentine's Spring 2019 campaign.
"In the wake of Katy's passing, my family and I were so overwhelmed and encouraged by the love and support we received from those who were touched by Katy's work, many of whom were strangers from around the world," she told the magazine.
"When you lose someone you love, you search for boundless ways to keep their memory alive," she said. "This felt like a way to do that through her beautiful creations and an opportunity to share them with all of those who her work meant so much to."
Photos from the campaign show Brosnahan in Kate Spade's signature bright colors and cheery prints. They were even shot in one of the designer's favorite spots, the Frances Valentine showroom that overlooks Bryant Park, and with a playlist that Spade curated — including John Lennon, Joni Mitchell, and the Rolling Stones — playing in the background, People said.
Frances Valentine was founded by Spade and her husband of 24 years, Andy, along with her longtime friend, Elyce Arons, 10 years after the designer sold her namesake label to Liz Claiborne in 2006.
The brand was named after the Spades' 13-year-old daughter, Frances Beatrix, and the designer's grandfather, whose middle name was Valentine. The year that Frances Valentine launched, Spade legally added Valentine to her full name.
"I think it's more meaningful than any other campaign we've done because it's [Rachel], and she was so close to Katy," Arons, now the CEO, said about the collaboration. "I know it would really make Katy smile."
The brand's newest collection features jewelry, shoes, and handbags with a retro flair (think: geometric patterns, woven basket bags, and kitten heels). In true Spade style, there's no shortage of bright colors: vivid canary, orange, and fiery red.
One of the handbags — a little leather crossbody — was even named after Brosnahan's character, Midge. The Spring 2019 collection is available to shop now. The Zoe Report's favorite pieces, ahead.
Shop The Collection