Yes, Kate Spade New York's NYFW Hair Look Is Actually Easy To Create — Here's How
Courtesy of Dyson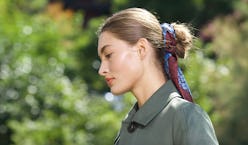 There's no denying that this year's New York Fashion Week will serve as hair inspiration for years to come. Everywhere you look, there's an up-do, natural curl, or sleek wave to add to your mental stylebook. And on Sept. 7, Kate Spade New York's Spring/Summer 2020 NYFW hair look in particular undoubtedly caught your eye. Scarf-tied braided buns created by stylist James Pecis perfectly complemented the show's floral pieces and garden setting; and you can trust you're going to see fashionistas recreate the look, stat.
Simply put, the style was relatable. Finished with fresh-faced, glowy skin and understated Maybelline lip stains, the on-the-go hairstyle is one to add to your early morning repertoire. Because yes, you can achieve this easy runway look before you head to work in the morning (even if you have a penchant for pressing snooze on your alarm) — and here's how.
To begin, coat your hair as needed with Oribe's Maximista Thickening Spray. The $39 thermal protectant elevates your tresses' body using copolymers, keratin amino acids, and conditioning cetrimonium chloride. After that, Pecis blow dried the product into the models' hair using the Dyson Supersonic hair dryer Professional edition, which you can buy on the brand's website for $449.99.
Still with the Dyson Supersonic dryer in hand, Pecis center-parted the hair, using a fine-tooth comb to assist in the process. Make sure you dry your hair away from your face, too; this creates a feminine, polished, and soft look (à la Kate Spade New York).
All you have to do next is pull your hair back into a low ponytail; use a soft-bristled paddle brush if you need help smoothing it into one place. Spritz Oribe's $42 Swept Up Volume Powder Spray throughout your hair, then braid your ponytail into a standard rope braid.
Next up is the only slightly tricky step: Gently run a fine-tooth comb backwards through your hair, twisting it into the chignon bun shape. Secure it with a tie and pins.
Finally, wrap your favorite printed scarf around the bun, tie it off, and you're finished — and ready for whatever NYFW-style adventures come your way. Leave the scarf ends long and dangly, too; not only is it how Pecis styled it on the runway, but it adds a certain laissez-faire touch you shouldn't skip.