Kate Middleton Has Perfected The Art Of The Subtle Smoky Eye — Here's How
Chris Jackson/Chris Jackson Collection/Getty Images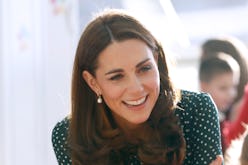 When it comes to makeup, there's a definitive line between Weds. morning and Sat. night and that line, for many of us, is eyeshadow. You probably wouldn't dare walk into your morning meeting with a contoured face and dark eye makeup (for good reason) but there is, in fact, a way to make the smoky eye daytime-appropriate, just take it from Kate Middleton.
Even with the most sophisticated of styles, Her Royal Highness is still no stranger to an eyeshadow palette. Rarely does she ever step out for one of her high-profile appearances without tinted lids.
Her solo outing to the Anna Freud National Centre for Children and Families on Weds. was proof. Middleton chose a classic fit-and-flare midi from Emilia Wickstead (in her go-to emerald green hue, obviously) to help the mental health charity — of which she is a royal patron — open a new research facility
Middleton's outfit included all her favorite things: a camel leather clutch by Mulberry, jewelry by Kiki McDonough, and her signature smoky eye.
She kept it professional with a thin layer of dark liner and light brown shadow. A rosy cheek and the subtlest pink pout make for an elegant look fit for a princess (or rather, a duchess).
Like black nail polish and bare legs, eyeliner seems like the kind of thing that would be against the Queen's rules. You know how seriously Middleton takes royal dress code, too. But when you love your eyeshadow palette as much as this duchess does, you find a way to make it work.
Over the years, she's perfected the subtle smoky eye, typically consisting of a soft layer of liner on both her bottom and top lashes and a swipe of barely-noticeable brown starting from the corners.
So, perhaps it's time to take that smoky eye past Sat. night, because if the duchess can sport a swipe of dark shadow in broad daylight, then so can you. Recreate her look with The Zoe Report's favorite products, ahead.
Shop The Products