Kaja's Releasing The Lipstick Version Of Its Heart-Shaped Gloss Just In Time For Valentine's Day
ImaxTree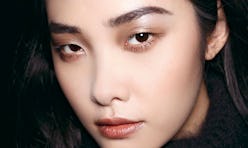 It's officially less than one month until Valentine's Day — and whether or not the holiday is even highlighted on your calendar, the product launches surrounding the love-filled day should be. Case in point: K-beauty brand Kaja's soon-to-launch Air Heart Lightweight Lipstick. The brand's first true lipstick features ideal "your lip but better" shades, is under $20, and comes in a cute heart-shaped bullet. Plus, it's launching Jan. 24, just in time for any heart-themed celebrations.
The pretty new collection features seven nude colors at $17 each, and provides high-pigmented payoff along with rose extract to soothe and soften lips. On the darker end of the shade spectrum, you can pick up "Bae" — a true, rich brown — or choose between "Boo" and "Ride or Die", the former being plum-based and the latter more mauve. If you're looking for something lighter, there's also soft-pink shade "Sweetheart," or peach-hued "Bbgirl." And if none of those sound like you, try "Sprung", a classic rose hue that will complement makeup looks from natural to full-on glam.
The collection's neutral colors and natural finish are a welcome addition to the Kaja family, especially when it comes to lip products. Fans of the slightly under-the-radar brand may be aware of its highly rated Heart Melter Lip Gloss Stick, which, like many of its products, brings brighter colors and high shine to the brand's lineup — much different than the subtle look of the new launch. The two products do, however, have one major detail in common: Both share a heart shape that not only makes the products great V-Day presents, but also provides a tip that helps contour and line the edges of your lips.
It's not really a surprise, though, that yet another heart-shaped product has been added to the brand's collection. As those who follow the brand know, Kaja's break-out product, the Cheeky Stamp Blendable Blush, was the first to feature the shape, and the label is quickly becoming known for its unexpected packaging (who could forget the Roller Glow Balm that launched in 2019?).
Give your makeup bag some love by shopping this new launch in Sephora stores or on sephora.com when it officially drops on Jan. 24.