How To Do A French Manicure The 2020 Way, According To J.Lo
David Crotty/Patrick McMullan/Getty Images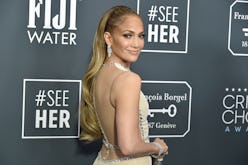 It's not uncommon to see celebrities changing nail colors more frequently than the average person. They have multiple occasions to attend, outfits galore to match, and hungry fans to satiate on Instagram. But recently, J.Lo has been on another level. The actor has changed nail color and design as frequently as three times in one week — twice at the Golden Globes alone. And while you may think, at this point, it's no longer worth taking note of, J.Lo's ombré French manicure in her latest clothing campaign is here to prove you wrong.
Lopez is no newbie to the French manicure game. She wore an updated version of the design to this year's Golden Globe Awards that channeled old Hollywood glamour, reminding everyone why the look is timeless. But her newest take on the classic design is definitely not what you'd consider traditional. Hot on the heels of the announcement for her return as the face of clothing brand Guess, celebrity manicurist Tom Bachik (who also is responsible for Selena Gomez's new go-to manicure) posted an Instagram on Jan. 14 of his latest creation for the actor, dubbing the new design "Natural Ombré French."
How do those three descriptors work together? Effortlessly. Instead of using a bright white as the classic French calls for, Bachik opted for an off-white, neutral color to make the design more natural. The shade then seamlessly disappears as it inches toward the cuticle creating that smooth ombré effect. All in all, it's an updated version of the French manicure perfect for work, play, and everything in between — and the perfect twist to bring to your 2020 look.
As the wait period begins for J.Lo to tackle another nail trend, you can save this look for the next time you hit up the nail salon or have a spa night at home. Ahead, a few colors to help you recreate the manicure on your own.