Jimmy Choo's Latest Shoe Collab Makes Trying These 2019 Trends So Easy (& So Chic)
Jimmy Choo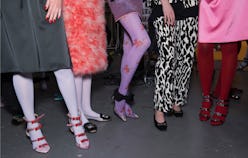 When it comes to accessories, chances are you have a specific category you gravitate toward more than the rest. For some of you, that may be handbags. For others, sunglasses or jewelry. If you consider yourself a shoe person, it's likely you're up to date on the most stylish designers to know. That said, there will always be household names like Jimmy Choo that practically demand a spot in your closet. And now that the Jimmy Choo x Ashley Williams collection is out, you have all the more reason to add the label into your collection.
If you haven't had the chance to get acquainted with Ashley Williams before, now's the time. The London-based ready-to-wear designer has become recognized for the edgy, rebellious spirit featured in her eponymous line. And in a new collaboration with Jimmy Choo, Ashley Williams is bringing her cutting-edge aesthetic to the luxury brand.
Described as "a game of contrasts…preppy with punk, girlish meets Riot Grrrl," the Jimmy Choo x Ashley Williams collection — which was first seen on the runway of Ashley Williams' Autumn/Winter 2019 collection — includes seven shoe styles and a handbag. Available in vibrant pops of color and classic neutrals, each piece showcases the complementing personalities of both brands.
The eight-piece collection brings a ton of 2019 trends — many of which you've probably seen on Instagram — to footwear. If you've been loving the statement hair clip trend, opt for the $1,450 Alexandra 85 or the $645 Heather Flat, which both feature cheeky "100%" and "100% Girls" crystal embellishments. Or, for those of you who prefer a subtler style, the $995 Glinda 100 feels undeniably feminine and takes on the popular PVC shoe trend.
Want to add a major pop of color to your ensembles? Do it with something in a slime green hue, like the $2,795 Helia Shoulder Bag, which is made with a chic shearling material. And if you're ready to take it to the next level, style it with the matching $695 Merlin Flat.
Scroll down to see the full Jimmy Choo x Ashley Williams collection below, and then head over to Jimmy Choo's website to add each piece to your wardrobe.