Jeu Illimité Is Having A Sitewide Summer Sale & Yes, That Insta-Favorite Mini Bag Is Included
Jeu Illimité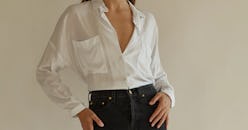 When someone creates a brand that has been approved by cool girls everywhere and also has individual pieces that become Instagram famous on their own, you know they're doing something right. Such is the case with Jessie Andrews and her minimalist-approved brand Jeu Illimité. If you haven't had the chance to add pieces from the Parisian-inspired label to your wardrobe, Jeu Illimité's summer sale is happening now, which means there couldn't be a better time to shop.
Whether you've been a fan of the Los Angeles-based brand's classic and uncomplicated designs from the beginning or have had Jeu Illimité on your radar since it launched its fashion girl-beloved Cherie Mini Bag, there's no doubt that its pieces deserve a spot in your closet. And now, you can get everything on Jeu Illimités website for 30 percent off — and yes, that includes its trendy mini purse.
To get in on the Jeu Illimité's summer sale, all you have to do is enter the code "SMR30" at the checkout. Stock up on chic summer pieces to wear while it's still hot out or get ahead of the season and start building your fall wardrobe with the brand's knitwear. No matter which of these timeless pieces you buy, there's no doubt you'll be wearing them for years.
As soon as you start shopping, be sure to add the Cherie Mini Bag to your cart. At 30 percent off, Jeu Illimité's popular purse will be available for $168 during the summer sale. Not only will you have an Instagram favorite on your hands, but you'll also have the perfect bag to take on your nights out. While you're shopping for accessories, throw these Nicola Pointed Mules — which cost $84 with the discount — into the mix. Style them with your favorite pair of skinny jeans or wear them to the office with pleated wide-leg trousers.
Speaking of the office, Jeu Illimité has pieces that were practically made with your work wardrobe in mind. The Jacques Linen Blazer is a piece that'll never go out of style and costs $224 during the sale. You can wear this blazer to make a simple work ensemble more polished or style it as an outer layer with the classic Chantel Slip Dress (which is on sale for $154) for a special occasion.
Ready to start shopping? Scroll down to see more pieces from Jeu Illimité's summer sale below.