Jennifer Lopez Is About To Convince You To Invest In Cashmere Sweats
Cindy Ord/Getty Images Entertainment/Getty Images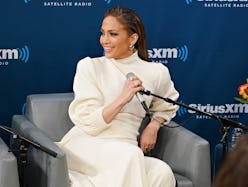 When Jennifer Lopez decides she likes a color, she wears it from head to toe. Each day has yielded a new monochromatic motif lately for the Latina style queen. On Thurs., it was Jennifer Lopez's beige sweatsuit that took the cake for matchy-matched athleisure.
The Maid in Manhattan actor spent her day off shopping with friend and fellow actor Leah Remini in Beverly Hills. Both wore monochromatic ensembles of very different variations. While Remini dressed up in a sleek white turtleneck, trousers, booties and a long wool coat, Lopez defined cozy-casual in an elevated two-piece sweatsuit and tennis shoes.
She wore cashmere-silk blend, ribbed culottes on the bottom and a slouchy V-neck sweater on top — both in a neutral blush hue. The cashmere sweater features a ring of fox fur on the shoulder. Lopez gave a bit of structure to its relaxed silhouette by tucking it into the matching pants. The outfit is from Sally LaPointe's Pre-Fall 2019 collection, which is actually full of cozy monochromatic sweatsuits with textured details similar to Lopez's wintery set.
And while the pants are sold out in the actor's beige color (don't worry — they're available in blue), her exact knit top is still in stock.
The 49-year-old has been obsessed with the all-one-color theme lately. In Dec. alone, she's had moments with bright orange, baby blue, and all white, too. Now that the holidays are only a few days away, the former pop singer seems to be taking a break from promoting her new Second Act film and enjoying a day of retail therapy with her longtime girlfriend.
Her sweats are proof that you can wear comfortable athleisure out and still look stylish all the while, especially with the help of a little bit of fur. Designers like Moncler, Agnona, Kobi Halperin, and more have added trendy fur trim to simple sweaters lately, taking the classic wardrobe staple to a whole new level.
When you take your snug sweats out for the day, try pairing them with tennis shoes like Lopez's or a pair of slipper-style mules. Ahead, The Zoe Report's favorite matching sweatsuit sets to help you try out the actor's look for yourself.
Shop Monochromatic Sweatsuits