Jennifer Garner Just Wore 2019's Unexpected Shoe Trend & Totally Pulled It Off
CMaidana / BACKGRID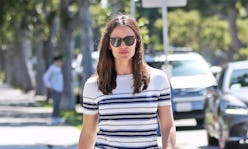 You might find it hard to believe what all the cool girls are wearing on their feet these days. If you're in on the it-crowd yourself, then you probably have a pair of the latest spring footwear in your closet already. Clogs are the new "ugly" shoe and Jennifer Garner is sporting them shamelessly.
In yet another example of just how cyclical fashion trends are, those chunky leather clogs you swore you'd never wear again are officially in. Dior, Gucci, and Miu Miu share responsibility for resurrecting the Dutch-style wooden shoe in their Spring/Summer 2019 collections and now all your favorite street-style stars are vouching for them.
Clogs are the latest in the "ugly" shoe saga, following the unexpected re-emergence of Birkenstocks, Crocs, and big, white dad sneakers. There's no stopping the revival, either, so you'd better just embrace the trend like Garner is.
Her latest walk around the block (escorting her kids to school is her daily ritual, as you know) was a smidge more fashion-forward than usual. Most mornings, Garner leaves the house in gym-ready leggings and sporty tennis shoes, but her recent clog moment is a reminder of how tuned into the trends this actor actually is.
Walking hand-in-hand with daughter Seraphina, Garner sported a striped t-shirt tucked into flared jeans cropped at the ankle and the most comfortable rendition of this season's heeled clogs.
The leather slip-ons were chestnut-colored with an open back and a chunky, cushiony heel. The best thing about these sleeper shoes is that they're not just cool, but so comfortable, too, which makes them a perfect fit for Garner's style.
In years past, the actor has sported black and metallic gray versions by Dansko nonstop, but her latest is a major upgrade. Needless to say, she's been around the clog block a time or two. Get on board with the fashion girls with these sleek Garner-inspired shoes, ahead.
Shop The Look