Jennifer Aniston's Instagram Debut 'Broke' The Platform Within Hours
Jon Kopaloff/Getty Images Entertainment/Getty Images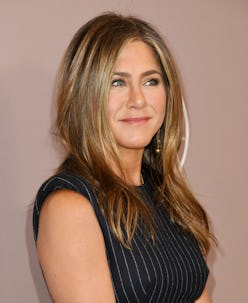 Well, it finally happened. After years of cajoling, teasing, and shameless peer pressure from friends and fans, Jennifer Aniston has finally surrendered to the Instagram gods and launched an official account. Considering this event has been highly anticipated for so long, it's no surprise that the debut was a Kardashian-esque spectacle that essentially "broke" the social platform almost immediately.
Yes, in the wee hours of Tues. morning on Oct. 15 an @jenniferaniston handle with an official blue check mark and single group selfie of the entire Friends cast appeared on the platform, causing a frenzy of truly epic proportions. In fact, within hours of her debut, Aniston's IG account accumulated nearly 500,000 followers and caused a temporary crash that outraged avid fans frantically trying to follow the actor. According to reporting by People, "users experienced difficulty following her account, and were redirected to the 'follow' button after clicking it a first time. Others were shown a page that read, 'Sorry, this page isn't available.'"
It's not exactly surprising that Aniston caused such a fuss. The Dumplin' star has been famously private about her personal life since her initial splash on the iconic TV show in the early '90s. In fact, in a 2018 interview with Elle, Aniston stated: "The one thing I have is maintaining this little circle of sanctity that's my own. If I'm sitting here posting something about my dogs or I'm Boomeranging my coffee mug in the morning, that's just giving away one more piece of something that is mine."
Her resolve on the topic didn't stop her pals from bugging her about her IG embargo, though. Friends co-stars Lisa Kudrow, Matt LeBlanc, Courteney Cox, and David Schwimmer have jokingly pressured Aniston to cave and join them on social media. (Kudrow even featured a #COMEONALREADYJEN hashtag on a recent IG post commemorating Friends' 25th anniversary.) "We were all on the phone, literally, and they were like, 'Jen, what's your handle?' and I was like, 'F*ck off, I don't have a handle!'" said Aniston in a recent interview with The Zoe Report. In this sit-down, the actor revealed she had definitely considered what her account would include if she hypothetically were to have one. "I would want it to have a beautiful feel to it," explains the actor. "I'd want it to be an expression — not showing my insides to the world, but showing things that inspire me."
And what's more beautiful and inspiring than a group shot of arguably the most epic TV cast in history? Nothing.