The New Bag You Need If You Carry Your Laptop Everywhere You Go
Courtesy of Janis Studios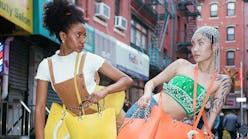 Joy isn't an emotion typically used in advertising when it comes to purses. However, it's inherent in each new Darka bag that Janis Studios creates — from the plaid holiday release (made from genuine, sustainable Scottish tartan) to the wonderfully literal heart-emblazoned edition released around Valentine's Day. And the campaign for the brand's April 11 release — Janis Studios' Darka Jumbo bag — continues to deliver. It's vividly bright and nostalgically grainy, taking shoppers on a journey through city streets and PlantShed NYC's sustainable greenhouse; all lead by Janis Studios' female cast and crew.
The campaign imagery's infectious happiness correlates perfectly with the two new colorways the release ushered in: Darka Orange and Darka Yellow Suede. If you aren't familiar with Janis Munz' work, the indie designer behind Janis Studios, you may be confused by all this talk about Darka. It's the name given to Janis Studios' signature bag; an easy-to-wear square shape available in multiple materials (including leather, fabric, and denim) and sizes (Small, Big, and now, thanks to this latest release, Jumbo). Even if you pick the same Darka size and material as your friend, your two bags may look completely different, too — Janis Studios also gives shoppers different handle options to choose from. (Personal favorites: Nickel Chain and Bamboo.)
Janis Studios' joy is in the name, too. According to the brand, Darka is French slang for an "enjoyable moment." And what could be more enjoyable than a sleek, customizable purse that actually works with your entire wardrobe?
All these new releases are a part of the brand's One Year Anniversary Collection; though it may not seem like it at first glance, Janis Studios has only been around since March of 2018. Although fans may have been happy with the size of their Darka bags before, the Darka Jumbo opens up the style to shoppers who are always on the go — the newest size can fit a 13-inch laptop.
Unlike a regular laptop bag, though, lugging your work around with you via Darka Jumbo will only add style points to your outfit. The prices of each new bag depend on size and material, too; the Darka Orange and Darka Yellow Suede range from $320 for the Small size to $490 for a Jumbo bag. Like everything else Janis Studios creates, the bags are ethically made from high-quality materials — in this case, 100 percent Italian leather and suede.
Already realizing you need to run to your next appointment? Before you head out, shop both new Jumbo-sized Darka bags below.