The Genius Styling Hack Jameela Jamil Used To Stay Warm At The Golden Globes (& No, It Didn't Involve Tights)
Frazer Harrison/Getty Images Entertainment/Getty Images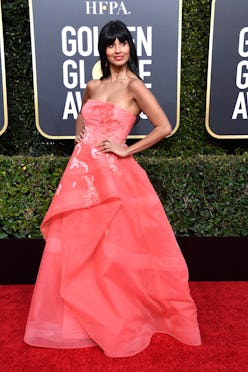 This year, the 76th annual Golden Globes landed on Jan. 6, the earliest the ceremony has ever taken place. And though the attendees' outfits may have convinced you otherwise, the evening was an uncharacteristically cold winter night in Los Angeles. That's exactly why Jameela Jamil wore jeans under her 2019 Golden Globes dress — and she wasn't afraid to make it known, either.
It should come as no surprise that celebrities have some of the most brilliant styling hacks on hand. After all, you do learn quite a bit after years in the industry. Jamil is one such red carpet veteran, and during Sun.'s event, she managed to offer up one of the most genius fashion tricks around — a hack that's sure to come in quite handy if you ever find yourself attending a black tie affair in the winter.
The British actor was not about to sacrifice comfort (or warmth) for a winning red carpet moment at the Golden Globes, but as she so expertly proves, the two aren't mutually exclusive. Upon first glance, it appears Kamil is wearing just one piece: a strapless, coral-colored Monique Lhuillier gown complete with beautiful floral embellishments along the bodice.
But, as it turns out, the über-voluminous, waterfall-like skirt on her dress was hiding the second piece in her evening look: a pair of skinny jeans. Probably not what you expected, right?
Jamil took to Twitter to address this styling choice, writing, "An experienced woman wears jeans under her Golden Globes gown because it's forking COLD."
The actor most certainly thought ahead while getting ready for the evening, sharing with USA Today, "I don't believe in suffering for fashion. It's going to be cold later tonight, and we're going to be out all night until the early hours. I would like to be comfortable."
Though jeans are definitely more casual than dressy (and don't typically make an appearance at an event as glamorous as the Golden Globes), Kamil makes a strong case for wearing them underneath a gown. After all, they're sure to stay hidden, especially when paired with a dress that has a floor-grazing, voluminous skirt.
Take note and remember this simple but brilliant hack for the long haul: The next time you find yourself attending a black-tie affair that calls for an over-the-top ball gown in the heart of the wintertime, make like Kamil and reach for a trusty pair of jeans to keep your legs warm.