This Isabel Marant Capsule Is The Most Sophisticated Take On The Shell Jewelry Trend Yet
Net-A-Porter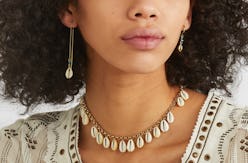 The fashion industry can't seem to get enough of the seashell trend this season — and recently, it's taken on an elevated look that's a stark contrast to the classic Puka shell necklace the world once knew and loved. It's true: Seashell jewelry hasn't always had the reputation of being elegant, but designers are changing that as of late by putting a sophisticated spin on the trend. This is where Isabel Marant's Net-A-Porter capsule comes in.
The French fashion house is celebrating its 25th anniversary with the launch of an exclusive collection of seashell jewels, so if you missed out on the craze last summer, here's your second shot.
What's included? The capsule features eight jewelry pieces that make incorporating this nostalgic '90s trend into your collection easy — even if you're not quite sold on the the trend just yet.
If that's the case, start off with a simple piece like this pair of $135 gold-tone, shell and bead earrings. The pair is mismatched — one is a thread through, and the other a short dangled hoop — and both are finished off with cowrie seashells and tiny turquoise beads.
Or, if you're feeling extra trend driven, consider the $190 gold-tone anklet. The piece is Isabel Marant's take on another unexpected throwback that's making its way back into the fashion scene this season, so you'll be hitting all the trends at once with this one.
Thanks to its simplicity, styling this collection with pieces you already own is simple — just layer the seashells with other minimal pieces. Tend to wear more than one earrings on your lobes? Mix the shells with a simple diamond or pearl stud. And of course, if you want the seashells to be the star of your look, simply wear them alone.
When it comes to the right clothing to pair it with, Isabel Marant has you covered there, too. The exclusive pieces on the retailer's site also include clothing, so whether you're wearing this jewelry to the beach our during an evening out, you'll have no trouble finding the right outfit to wear alongside your seashell-covered pieces.
If you're ready to incorporate this sophisticated version of the trend into your jewelry collection, keep scrolling to shop the eight jewelry pieces in the exclusive capsule below.