Interior Designers Predict This Indoor Tree Is Going To Be The Next Big Decor Trend
locrifa/Shutterstock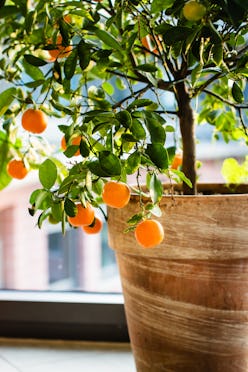 The Zoe Report's New Leaf series spotlights the plants you need to know about — from actual plants that double as decor, to plant-based beauty ingredients that will instantly upgrade your skincare routine. Today's topic: how to decorate with indoor citrus trees, the trend interior designers are currently obsessed with.
Along with chunky sandals and lime green everything, citrus motifs are certainly having a moment. Whether on a whimsical beaded bag or embroidered on your favorite denim, fruity imagery is in abundance — so it's only natural the trend would spill into your living space as well. And while indoor plants have long been touted as a worthy decor component for the home, these days, the ante is upped with plant babies in the form of decorative potted citrus trees becoming the thing in home design.
"Citrus trees are a poppy, fun addition to a room... especially those with a more neutral, tonal color palette," Cortney Bishop, principal designer and owner of Cortney Bishop Design, tells The Zoe Report. "They introduce another color into a room, beyond just the greenery of traditional house plants." Los Angeles-based interior designer Victoria Holly adds that citrus plants can bring a touch of both function and beauty to your space. "I love having fresh flowers and plants throughout my home at all times, but especially during spring and summer," she says. "It makes the space feel fresh and clean. And citrus trees further amplify this."
Indeed, you can strategically place fruit-filled masterpieces like mini Meyer lemon, orange, and kumquat trees in your home to add light, fragrance, and a summertime burst of color. "They definitely thrive on front porches, but bring life indoors as well," Bishop says. "Their colors are so fresh and lovely. Think poppy yellow and orange from lemons and kumquats... it's unexpected and fun! Not to mention you can pop that citrus right in your cocktail when friends come over."
Want to give this colorful trend a try? Read on for pro tips on how to make the fruity aesthetic work for your living space — no green thumb required.
Tip #1: Know The Basics
First things first: Before adding a citrus tree to your home, learn how to take care of it. Citrus trees require a certain type of atmosphere to really do well, and the last thing you want to do is invest in a plant that will ultimately die due to a less-than-ideal living situation. "Definitely consider your environment when selecting a citrus tree," Bishop says, adding that "limes and grapefruits don't thrive well in colder climates, while the hardiest and least temperamental are kumquats." Room temperature is usually fine for indoor citrus trees, though that being said, it's probably a good idea to keep them away from an AC or heating vent.
Also keep in mind that citrus trees require a good amount of sunlight — between eight to 12 hours daily, Bishop says. "I'd recommend positioning them beside a window or even directly outdoors — sunrooms and porches are ideal. Between the sunlight and the citrus trees, the extra brightness will bring on the good vibes," she says.
Tip #2: Choose Your Citrus Tree Wisely
Next, figure out what type of plant you want. Citrus trees come in all shapes and sizes, so make sure you're choosing one that will actually fit your space. "You'll definitely want a citrus plant of the dwarf variety," Holly says. Dwarf citrus trees typically grow to a max height of four to 10 feet tall, making them ideal for indoor decorating.
Be thinking about what colors you want in your home as well. "Choose the right citrus coloring that will make your other decor pop — whether yellow, orange, or green. I love lemons in family rooms, and oranges and limes in kitchens," Holly says.
Tip #3: Use Them To Brighten Up Empty Corners
OK, so you've got your dream citrus plant in mind ... now where should you put it? Bishop suggests scoping out the bald spots in your home's common areas. You know, those empty spaces that won't fit a piece of furniture, but are large enough to be noticeably empty. "We all have those corners in our house just calling for a friend," Bishop says. "Placing a potted citrus tree brings about a natural, bright element to the home, while adding height and filling the void of that empty space. Tuck one in the corner, and the room will benefit from the tree's fullness."
A kitchen countertop is another worthy option. Holly suggests "having a smaller citrus tree on a kitchen island to brighten things up and make the kitchen feel more in-use." You can also use them to instantly brighten up a patio or outdoor entryway. "I love the idea of flanking your entryway with two larger trees. It makes for a grand entrance into a home," Holly says.
Tip #4: Give Your Citrus Tree Space
Because citrus plants are lush and colorful in nature, they often work best as a stand-alone decor piece. Keep the area around your citrus tree free from clutter. "I would recommend not overcrowding the space around the citrus tree," Bishop says. "They need room to grow, and deserve their own moment in the spotlight."
Holly suggests regular pruning to keep your plant under control. "A citrus tree will grow as big as the pot you put it in, and frequent pruning will help keep the tree fruitful but also prevent it from getting too big," she says. "So there's no issue of it falling over or getting too big (unless that's your plan)."
Tip #5: Consider The Planter, Too
In addition to the plant itself, its packaging is something to put some thought into. "Choosing the right planter aesthetic really defines how your plant will look in your home," Holly says. "A planter (especially in ceramic or metal) can really elevate the look and feel of a room. Whereas cheaper materials, such as a composite, can downplay the rest of your space."
Ready to hop on the citrus tree bandwagon? Here are seven options to get you started.