The Genius Tip That'll Get You Out Of Your Career Rut Fast
Christian Vierig/Getty Images Entertainment/Getty Images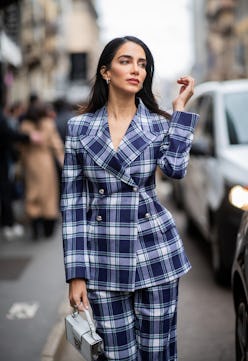 Almost everyone in the working world can relate to hitting a mid-career rut at one point or another. And with a good portion of life fulfillment being derived from work — between hours spent and money earned —a stale job can be detrimental to your happiness, and even your self-esteem.
But before making any drastic decisions, Rebecca Fraser-Thill, a career coach and psychology instructor at Bates College, says to consider whether a professional slowdown calls for a shake-up or a complete overhaul. "There's a difference between feeling like you've stagnated professionally and like you dislike your career," she explains. "We experience the former when we are no longer challenged by the majority of our work tasks; we feel like we've mastered what has been thrown at us to date. That's in contrast to not being engaged by your industry, the roles of people around you, and/or the types of tasks that would likely await you if you were to advance. If you're feeling this, it's time to consider a genuine career change."
Ahead, four successful women recall times when their careers came to a screeching halt, then dish out advice on regaining momentum. Whether you've encountered a dead end, a bout of boredom, or disappointment in what you thought would be your dream job, these practical solutions will snap you out of your career rut and get you back on the path to success.
Invest In Your Skillset
Supriya Venkatesan, director of content strategy at Critical Mass, recalls two distinct "ruts" from previous work experiences and, after each, she focused on self-improvement in order to propel her into the next opportunity.
She hit her first roadblock while working at a non-profit in New York City. "I was emotionally burned out, overworked, and underpaid," she says. That's when she decided to earn her graduate degree so she could pursue better opportunities. But when she became pregnant and gave birth to her daughter, her career path took another turn. "I took a leap and started my own business to allow for a flexible work schedule, working from home, around my daughter's needs," she says. "Blindly, I pursued the path of entrepreneurship and started pitching my services as a content marketer and freelance journalist."
But, after a few years, Venkatesan felt stunted for the second time. "The problem with working for your own small, service-based company is that at some point you stop being challenged," she explains. "I was really hungry to grow and create a bigger impact, and I knew that I needed to go work at a big company." Despite doubts about whether she could get back into the "mainstream workforce," Venkatesan's varied background and education helped her land an opportunity at Critical Mass, the digital design agency where she currently works.
Whether you're looking to embark on a new career or advance your current one, Venkatesan emphasizes how important it is to continue building upon your skillset. "Since completing my graduate degree, I've continued to update my skills by taking formal courses, workshops and bingeing on e-learning platforms like LinkedIn Learning and Coursera," she says. "The world is in a constant state of evolution and if we don't keep up, our skills get outdated very quickly and our professional value decreases."
Create Initiatives In Your Current Role
Once you've mastered your current role, you may find yourself on "auto-pilot," an unfulfilling (and even dangerous) place to be. If you're going through the motions, Venkatesan suggests creating new initiatives to challenge yourself and prove your potential.
"I've tried to always bring fresh ideas and lead initiatives [to my job]," she says. "At my last company, I really wanted to get into marketing, and specifically social media, so I networked with the social media team and then found ways to help them where they had gaps. My leadership took notice and gave me additional opportunities, but more importantly, the experience gave me a level of self-belief and agency, which has a lifetime of ROI that goes beyond a paycheck."
Get Inspired By Your Co-Workers
Feeling uninspired? Fraser-Thill points out that the positive attitudes of passionate co-workers can be contagious. "If your enthusiasm for your career has fizzled, get around people who still have a burning drive for what you do," she suggests. "This often means spending time with younger workers who are new to the role and/or industry, such as by acting as a mentor to them in formal or informal ways. Industry conferences can also reignite a spark, especially if there's a focus on innovations and changes that are coming to your field."
Further, she adds that becoming the mentee of someone you admire can help keep the motivation alive. "If you're feeling under-stimulated in your current role, the best thing you can do is to start talking to people whose roles seem 'meatier' and more intriguing," continues Fraser-Thill. "Ask for informal lunch or coffee chats with these individuals to ask them about what their work is actually like — to pressure test if you would actually be more satisfied in that type of role — and, if you're interested, [ask about] the steps they took to get to their current role."
Start Your Own Business
Can't find a company that ignites your passion? Jennifer Bett Meyer of Jennifer Bett Communications says that it might be time to start your own. "I spent over 12 years working at PR agencies and in-house handling communications for a variety of fashion brands," she remembers. "I felt very uninspired by how these agencies and brands were addressing media relations. I considered leaving the industry altogether to start a business outside of PR."
But instead of overhauling her career completely, Meyer's re-imagined a business strategy and founded her own company. "I launched my own media relations agency in January 2014 with my partner, Melissa Conner," she explains. "Instead of working with established brands, we decided to launch and support innovative venture-backed startups in all different industries. Our clients are not looking for a cookie-cutter approach to PR, they want what I had been craving for over a decade: A real partnership that [is] thoughtful, creative and always growing."
Venkatesan also advises those in a "rut" begin their own business, thanks to the valuable experience that can be gained. "I believe in grabbing life by the ovaries and going after audacious dreams," she says. "Even if you fail, you [will] have learned something that will only lead to growth."
Be Willing To Adapt
"In 2007, I was hired at my dream job right out of college: Writing in the editorial department at Rolling Stone," recounts Natalie Zfat, who's currently a social media entrepreneur. But two years later, massive layoffs left Zfat jobless, which forced her to reimagine her aspirations. "For awhile, I was certain that it was the worst day of my life," she says of losing her job. "Now, looking back, I know that it was the launching point for my career."
Zfat began reaching out to the connections she'd made as a journalist, getting hired to write guest blogs and conduct interviews on a freelance basis. "After a few months, I realized that I was making more than double what I earned at my full-time job, and the demand was not slowing down," she said. "I finally formalized a content company, signed clients like adidas, Levi's and Dell, and eight years later, am proud to have a five-person team and earn mid-six-figures annually."
The moral of the story? Be ready to adapt if your career presents you with a dead end. "You have to be willing to change courses when your existing path becomes obsolete," she explains. "I knew I wanted to write, but print journalism was changing, and I refused to go down with the ship. So I started blogging and using social media to connect to an audience." Further, she says, allow yourself to be wrong. "I always say: 'I reserve the right to change my mind.' You may think that a certain job or trajectory will make you happy or bring you success, but if you realize that it doesn't, you need to give yourself permission to pivot."
Grow Your Network
Experts agree: Whether your goal is to climb the career ladder, explore new opportunities, or snap out of a rut, it's always important to build connections. "Networking has always been key for me," says Meyer. "I have taken more coffees and lunch meetings than I can count. Most importantly, I've always made an effort to meet with people from outside my industry, as well as my industry peers. Different industries are more interconnected than ever before, so having an expansive and diverse network will always be an asset."
Venkatesan agrees. "In grad school we had a saying: 'Your net worth is your network.' So constantly grow your network, even if you are not in a career rut — you never know who might be able to help you down the road when you want to make a transition. Also, networking within your current company can create champions for your work and lead to other opportunities." She adds that contacts can be especially handy when the time comes to change your job. "[Before interviewing at a company] I've networked with former employees to get insights [to] help me crush the job interview and/or learn something about the company that will sway me in one direction about whether or not I want the job," she says. "Strangers can be awfully candid when given the opportunity."