IGK's New Hair Mask Makes Fixing Damage As Easy As Applying Dry Shampoo
Courtesy of IGK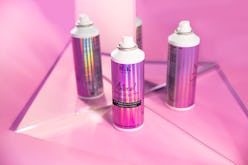 For anyone routinely covering their damaged strands in thick hair treatments, IGK's new Antisocial Overnight Bond-Building Dry Hair Mask is about to revolutionize their lives. Yes, seriously — it's that good, and definitely that different. Launching May 21 on IGK and Sephora's websites, the treatment has benefits similar to cult-favorite hair masks: It repairs broken bonds within your tresses, strengthening each strand and smoothing down any raised hair cuticles.
But IGK's Antisocial hair mask is also probably quite different than any other one you've tried before. It's not goopy, your hair doesn't need to be wet, and you don't need to cover your head in a shower cap while you wait for it to work. Instead, all you have to do is spray the light-as-air hair mask onto dry strands, comb or scrunch it through, and presto — you can now fall asleep while the Antisocial mask gets to work on re-building your hair.
Basically, it's like a dry shampoo for hair damage. The $34 mask is formulated with bond-building technology and a groundbreaking vegan silk protein harnessed from plants like sugarcane and beets. The vegan ingredient has the same haircare benefits as traditional silk protein; it detangles, nourishes, and makes hair silky soft. However, the process used to create it is completely animal free.
The best part? No matter what time of the day you use the hair mask, Antisocial won't mess with your style. There's no need to wash the mask out the following morning — so those who straighten their hair won't have to wash, dry, and flat iron all over again, and anyone with curly hair won't have to try and get their locks dry before rushing off to work. (And you won't need to toss your pillow cases into the laundry more often while using Antisocial, either; the mask was made to resist transferring while you sleep.)
All in all, using the Antisocial mask may actually make you feel way more social — or, at least, you'll want to go out and show off your newly glossy hair. Below, IGK's new Antisocial hair mask, available on the brand's website now.