IGK Created A New Hair Product Inspired By Setting Spray — Here's How It Works
IGK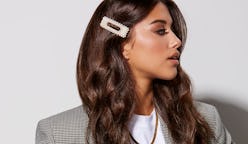 It looks like the skincare-makeup hybrid phenomenon has finally met its match. In July 2019, IGK introduced its new 1-800-HOLD-ME spray to the world — and began ushering in a new era of skincare-inspired hair products. Which, surprisingly, may be the answer to all the age-old crunchy, sticky hairspray problems you've probably dealt with in the past. Who knew?
Because yes, IGK's new 1-800-HOLD-ME is technically a hairspray. However, when creating the innovative product, the haircare brand looked to setting sprays for its inspiration; specifically, formulas that give your face the oh-so popular "glass skin" effect (aka a dewy, natural glow). With that finish in mind, IGK crafted its new "brightening" hairspray formula — which uses what the brand calls "Hi-Shine Micro-light Reflectors" to help your hair glow. And before you ask: The 1-800-HOLD-ME hairspray formula is made without glitter, according to a post on IGK's official Instagram account.
Better yet, the hairspray also took another cue from skincare products; much like your go-to foundation, 1-800-HOLD-ME is actually buildable. IGK notes in the product description for 1-800-HOLD-ME that you only need to mist a layer over your hair to use it as a finishing spray. From there, you can continue spraying it to build up its holding power or add additional glossiness to your locks, if you so please; the medium-hold spray promises to be crunch free, flexible, and "reworkable," too. And, just in case you need another reason to buy, 1-800-HOLD-ME also works as a heat-styling and UV protectant.
You won't be paying extra to get all these perks, either. Just like IGK's other haircare products, 1-800-HOLD-ME is budget friendly, retailing on the brand's website for just $27. Additionally, the skincare-inspired spray is safe for all hair types, hair colors, and chemically treated hair; IGK even included omega-3 fatty acid-rich avocado oil in the formula, which helps to moisturize dry hair and reduce the likelihood of breakage.
Ready to add a setting spray into your haircare routine? You can shop IGK's latest addition on the haircare brand's website. Below, IGK's new 1-800-HOLD-ME spray.