This K-Beauty Brand Launched A Totally New Collection Of Products (& It Includes An Affordable Vitamin C Serum)
Memebox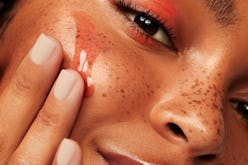 The K-beauty brand I DEW CARE hits a sweet spot in skin care. While it's still making a name for itself — netting a little less than 50,000 followers on Instagram — I DEW CARE has managed to release products that capture the internet's attention; its shimmery Insta-famous Disco Kitten peel-off mask, for example, has garnered an impressive 700 reviews (and counting) on Ulta's website. All signs point to the new I DEW CARE Vitamin Glow collection being no different, too. Like those that came before it, the new skincare products are affordable, efficient, and primed for any #shelfie snapshots you have in mind.
You don't have to hunt for the K-beauty products, either. You can find I DEW CARE's entire Vitamin Glow collection on the beauty retailer Memebox's website, or score select products on Ulta.com and at Ulta stores. The only thing that may surprise you are the prices: The collection starts out at just $12 (for the vitamin-infused Glow Easy Lip Oil) and tops out at $29, the price of the new Say You Dew vitamin C moisturizer.
Noticing a trend here? As you may've guessed from the name, the Vitamin Glow collection is all about vitamins — namely, vitamin C. And yes, this does mean that the collection also offers an inexpensive vitamin C serum. Score.
And I DEW CARE's serum — appropriately titled Bright Side Up — retails for just $25. Besides the dose of brightening vitamin C, the lightweight, jelly-like serum also delivers a round of vitamin E, vitamin B5, and grapefruit extract. Even better, I DEW CARE notes on its Instagram page that the product is perfect for all skin types — even sensitive skin, which occasionally can be irritated by vitamin C serums.
Already own your go-to serum? You're bound to find something new for your skincare routine just by scrolling through the Vitamin Glow collection; like the Berry Melting makeup remover, a $23 tub of lavender "sherbet-like" cleanser that transforms from a balm into an oil. If you're not sure what you're looking for, though, keep on scrolling down — all six new I DEW CARE additions from the Vitamin Glow collection are below.