Hulu's ''Bad Hair' Sets Out To Redefine The Divisive Phrase, Once & For All
Bad Hair Film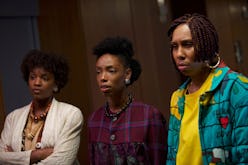 We didn't anticipate horror and satire intersecting with the discussion of natural hair being on the 2020 bingo card — yet here we are. However, unlike the majority of unexpected happenings of the year, this is something to rejoice about. Enter the upcoming original Hulu film, Bad Hair, written and directed by Justin Simien. The 1989-based film follows a budding character named Anna Bludso, played by Elle Lorraine, who unintentionally gets a demon-possessed hair weave in an effort to be more appealing in the music television industry.
According to Simien, the satirical psychological thriller with a star-studded cast that includes Kelly Rowland, Laverne Cox, Usher, and Vanessa Williams, aims to highlight the "hidden costs and quiet personal deaths one feels when trying to thrive in a world not built with them in mind." TZR connected with another star of the film, Ashley Blaine-Featherson, formerly of Dear White People, who says that Bad Hair is doing just that.
"I think, traditionally, people saying that Black women have 'bad hair' implies that it's not a desirable texture," she tells me. "'Good hair' has generally been marked by a looser curl, or something more wavy. However, Justice is not using it in that way in this film. In fact, he's kind of flipping it on his head. What he's saying is not that Elle's natural hair is bad, in fact he's saying it's great. What he's aiming to portray is that the hair she applied to conform to the pressures of society, that hair is the bad hair."
And according to Blaine-Featherson, the timing of the film is an equally important aspect of the film's plot, as the '80s and '90s were decades largely marked by Black women religiously perming and straightening their hair. "Now more than ever, Black women are leaning into natural hair," she says. "Obviously it was a big movement in the '70s during that Black Panther movement, but there was a shift some years later. It creates quite a contrast as the past decade has been one that encourages Black women to embrace their natural hair the way it goes out of their head." The empowering shift is one that's greatly impacted Blaine-Featherson as well. "I've come to love the versatility of Black hair," she says. "One day I can wear my hair in an Afro. Another day, a wash-and-go. Another day, I can put on a wig."
Blaine-Featherson also shares that Bad Hair speaks to some of the reasons that many are still hesitant to embrace their natural hair. "Black women have to do things for self preservation," she says. "So there's a lot of times that I tuck my hair away. It's not because I don't like my natural hair. It's because I need to preserve my natural hair from people who don't understand and cherish the way in which I do. So there's a level of that, too. It all gets really deep."
The actor says that being a part of the production has changed her perception of the phrase "good hair" overall. "Initially, I was thinking that I wanted the word to be eradicated all together," she says. "But now I just want everyone to know that their hair is good hair. Who is anybody to tell me what my hair is bad or good? If it's mine and it's healthy, then it's good hair. It doesn't matter if it's gray, or how it's styled, or if someone else doesn't like the length, curl pattern, or color. Things like that shouldn't ever be up for debate with others."
Catch Bad Hair when it makes it official release on Hulu on Oct. 23.