This Luxe Fall Trend Is Perfect For That Weird Between-Season Weather
@filis_pina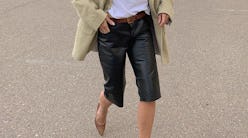 It's not really summer anymore, but it doesn't quite feel like fall either. This in-between phase makes getting dressed in the morning frustrating. But if there's one simple styling trick to try during these next several weeks of unpredictable climate patterns and post-summer/pre-fall awkwardness, it's mastering how to wear leather shorts: your transitional wardrobe MVP.
Leather has been a much-anticipated trend since designers such as Sies Marjan, Salvatore Ferragamo, Bottega Veneta, and Zimmermann sent look after look of layered-up leather down the runway at their Fall/Winter 2019 shows. Then you have the Bermuda shorts trend that made massive waves on the fashion scene this summer, effectively edging out any styles that didn't at least skim the top of the knee. Now, as we approach the edge of shorts season, but haven't quite hit the time to fully embrace all-over leather, it turns out a combination of these two trends is the perfect sartorial synthesis to carry you through this transitional stage. They're luxe enough to satiate your autumn cravings, and wearable on warm and cool days alike. Keep scrolling to see some of the chicest ways to wear long leather shorts right now.
Black And White Basics
Black and white basics are a necessary part of any season's wardrobe. As you bridge the gap between summer and fall, mix luxurious leather with lighter elements like a crisp white shirt and strappy sandals.
Boxy And Bossy
Make long leather shorts work for the professional realm with the power combo of a boxy menswear blazer and some classic pointy pumps in sleek croc.
Like A Fine Wine
A rich oxblood hue is the perfect color to herald fall's arrival. Go burgundy from head to toe in pieces that hit that between-season sweet spot of textural and warm but not too covered up, e.g. a ribbed knit tank and knee-length calfskin shorts.
Subtle Touches Of Fall
A turtleneck top and velvet accents are staples of fall style — wear them with shorts right now to give your ensemble a subtle nod to the season ahead.
Mad About Plaid
A plaid jacket and leather Bermuda shorts come together for a thoroughly autumnal ensemble. While the weather is still warm, wear with simple black sandals, then switch to ankle boots or loafers when temps cool.
'80s Redux
Embrace an '80s vibe this fall in a leather short-and-jacket set. Look for styles with period-specific details, like exaggerated shoulders, puff sleeves, or ruffles.
Post-Labor Day White
You can completely disregard the old adage about not wearing white after Labor Day — particularly when the milky, snowy shades come in the form of delicate cashmere knitwear and buttery leather trouser shorts. The colors may traditionally say summer, but the textures are 100 percent autumn.
Le Chic Sportif
Sporty trainers will give haute hides a more casual, cool feel — perfect for days when you just can't bring yourself to put on heels. Pick a pair with some bright pops of color for an added splash of whimsy.
It's Sweater Weather
A lightweight sweater is an ideal match for leather trouser shorts during that in-between weather, when it can go from being a little too hot to a little too cold in an instant.
Modern And Sleek
Sleek, all-over leather is set to be huge for fall. Get a jump on the trend in a way that's more suited to the current climate by choosing silhouettes you can actually get away with wearing while it's still a little warm. Try a short-sleeved shirt and modern tailored shorts in glossy leathers. Bonus points for adding a soft, slouchy cloud clutch to the look, too.