Gommage Is The Skincare Ingredient You Didn't Know You Needed
Tristan Fewings/Getty Images Entertainment/Getty Images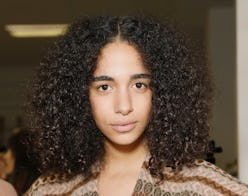 The latest French-inspired beauty staple isn't a red lip or artfully-tousled bangs (although those are always in style). No, the new way to do French girl beauty is gommage — which sounds like an expensive facial you can only get at Biologique Recherche. But gommage is just a fancy word for exfoliation, which leads to your best glow ever. To be more specific, "it's French for 'to erase' – a nod to the products' benefits of erasing dull skin," celebrity aesthetician Renée Rouleau tells The Zoe Report.
While gommage is a buzzy term right now — it's showing up in cleansers like Bliss Oh My Gommage! Cleansing Stick and exfoliating treatments like Nelly De Vuyst Bio Organic Gommage BioTense — it's surprisingly tricky to find a true gommage product. An Instagram search for #gommage reveals why: it turns up nearly 65,000 results, mostly from France, where "gommage" is used interchangeably with "scrub" or "exfoliator."
Don't let that fool you: the Americanized use of the word is considerably more narrow. According to New York City Cosmetic Dermatologist Sejal Shah, founder of SmarterSkin Dermatology, "The gommage exfoliation method uses non-particle based gel to remove dead skin cells. Typically, the gel is applied to the skin, allowed to dry for a few minutes, and then massaged away." Then, similar to eraser shavings, "the product rolls up into small balls, taking dead skin cells away with it." (See? Only the French can make that sound sexy.)
As a quick refresher, there are two types of exfoliants: physical and chemical. A physical exfoliant uses textured ingredients, like grains or granules, to buff away dead skin cells; a chemical exfoliant uses acids or enzymes to break them down. Gommage falls into the chemical category, usually utilizing fruit enzymes or extracts to loosen dead skin cells and reveal the fresh, glowing skin underneath.
But gommage offers something that no other chemical exfoliant can: visual gratification (looking at you, Dr. Pimple Popper fans). Ron Robinson, a cosmetic chemist and founder of BeautyStat.com, agrees: "The visual effect may give the consumer the cue that dead skin, dirt, and oil are being removed," he tells us.
Of course, that's not what's actually happening. Most gommage products contain acrylate polymers, or plastics, that are typically referred to as "carbomer" or "cellulose" in ingredient lists. When these plastics interact with the skin's natural oils, it creates an eraser shaving effect. Dead skin cells are microscopic, so the "peelies" from a gommage treatment are mostly made up of polymers tinged with dirt and dust from the skin's surface.
So why choose gommage over a traditional exfoliator? "Gommage is good because it is gentler than many alpha hydroxy acid and glycolic products," Cathy Dye, an aesthetician with Oasis Skin Center, tells The Zoe Report. "Most are gentle enough to be used weekly or bi-weekly, but one should always follow the manufacturers and or professionals directions."
As far as risks, there aren't many. "Because gommage is a form of exfoliation, additional exfoliation is not required," Dr. Shah warns. In other words, don't follow gommage with an acid exfoliator, harsh scrub, or chemical peel.
Rouleau agrees that over-exfoliation is the main concern, but thinks that all skin types can benefit from a good gommage treatment. "They help unclog pores, even skin tone, accelerate skin repair, and fade spots post-breakout. In the winter months, they help smooth dry skin and wrinkles, allowing the skin to have a brighter, more youthful look."
Basically, consider gommage your new go-to technique for cultivating an effortless glow. Je ne sais quoi, indeed. Ahead, shop some of the best gommage products on the market, from cutting edge cleansers to tried-and-true gel peels.