How To Create The Chicest Home Office Ever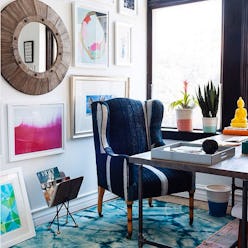 If your home office is in need of a little redecorating, but you aren't really in the market (or tax bracket) for an interior designer then today is your lucky day. Thanks to the geniuses behind Havenly—a new online design service that hooks you up with professional interior designers on the cheap—you can revamp your home office easily and affordably. For a flat fee per room, accredited interior designers completely design your space over the web and put together a shopping cart of all the items you need. Afterward, you pick and choose what you'd like to purchase. Easy-peasy.
In an effort to find out how to create a useful-and-yet-still-chic home office, we asked Havenly Design Director Shelby Girard for her ingenious tips.
"Find a comfortable but stylish office chair. Your office chair doesn't have to be ugly just because it's functional. Look for a chair with arm rests and good back support and one that is the proper height for you. Depending on your style, an upholstered dining chair could do the trick."
"Choose furniture with storage. You'll need a place to store papers, files and other documents in order to keep your office shipshape and allow you to focus."
"Stick with one color palette: Your home office should be a clean, chic space. Stick to a few similar shades for the major items, such as the desk and shelves."
"Add a pop of color. A bright desk chair, neon filing cabinets or a bouquet of bright blooms instantly brighten a room."
"Focus on the lighting. Make sure to face your desk toward a window to take full advantage of natural light. To avoid overhead fluorescent lights, find a great, stylish desk lamp or a beautiful chandelier that adds character to the space."
"Don't ignore the walls. A bright coat of paint, an inspirational picture or a letterpress print with a quote you love will keep you inspired. Speaking of walls, it's important to not hang art too high (it should be at eye level)—that's a Havenly tip that goes for every room."
"Hide your cables. An unsightly mess of wires protruding from under a desk really takes away from the overall aesthetic."