The 10 Makeup Essentials I Use To Look Alive While Traveling Nonstop
Fotosite/Gamma Rapho/Gamma-Rapho/Getty Images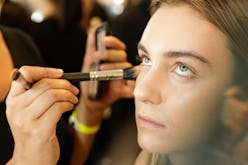 "You look tired" isn't a phrase that anyone really wants to hear. Once upon a time, it was one of the reasons I tried not to wear any makeup at all — which is counterintuitive, I know. But my thinking went like this: If my baseline no makeup-makeup look was considered my norm, I'd look a bit more pert on days when I added in blush or mascara. Now, I have the best of both worlds, thanks to a handful of low-maintenance tricks and beauty products that help me look less tired... even when I'm straight off the red-eye and into the office (yes, I've done this more than once).
I'll start with the slightly-obnoxious reality that sleep, sunscreen, water, and lotion really do make a big difference when it comes to appearing bright-eyed and energized. When my skin dull and undernourished, throwing concealer on top tends to just make the problem worse. I think of it like this: if a manicure is peeling, you can't just throw a new coat on top. It's all about laying the foundation. I'll admit that I'm often failing to maintain the core four I mention above — I live in New York, no one ever gets enough sleep! — but the days I tear through a few S'well bottles while attending to emails are the ones people mention my *glow*.
Now, let's talk about no makeup-makeup. I don't know how to bake (besides a semi-decent banana bread) or strobe — this is not that kind of tutorial. It's a five-minutes-and-out-the-door situation that I'm letting you in on, ahead.
Base
The first thing applied when I roll out the door is a gel sunscreen. It goes on sheer and keeps any upper layers from streaking or going on too dry. Then I add a lighter foundational product, like Charlotte Tilbury's Wonderglow Face Primer, because it's hydrating and sheer with just enough tint to even out my skin tone. To finish my foundational layer, I use my pinky finger to lightly apply NARS Soft Matte Complete Concealer just under my eyes and on any particularly angry pimples. I've found here that less truly is more, as too much concealer tends to leave things looking flaky.
Cheeks
OK, so now is the fun part — the tricks I rely on to make me look glowier than I would in my natural state. Honestly, it's all about distraction. For my most basic needs, it's about dabbing on a few dots of color — like with our TZR Beauty Award-winning EM Cosmetics Color Drops Serum Blush — along the ridge of my cheek, stretching up to my jawbone and blending with my pinky finger. A rosy blush with a slightly warm tint instantly brightens up my olive complexion.
Eyes
If I need to do a bit more to take attention away from my sleepiness, I suggest a swipe of bright eyeshadow or a warm-hued lip. During Milan Fashion Week this past September, bright pink eyeshadow was my go-to for concealing the fact that I was running on four to five hours of sleep — but I also enjoyed enhancing my natural eye color with shimmery neutrals from my favorite Too Faced palette. I'd suggest staying away from any heavy eyeliner, as it can bleed below the eye and accentuate any darker circles. Instead, choose a waterproof mascara. And if liner is a must, use a liquid pen and do a swipe across the upper lid only.