How To Save A Manicure After A Smudge — Even If You Already Left The Salon
Dave Kotinsky/Getty Images Entertainment/Getty Images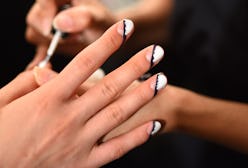 It's almost inevitable: After spending a suspenseful 25 minutes in your manicurist's chair and another 20 underneath the UV lamp or fan, you reach for your car keys and then, boom — an unsightly dent. If you're lucky, you can just dash back to the nail salon to fix your smudged nail polish. But if you're already halfway home, there's no need to fret... most often times, correcting your mani is quite simple.
Read more: How To Fix Cakey Makeup In 9 Easy Steps
"Make sure the nail polish is almost dry. Then take a fine grit file or buffer and lightly buff the smudge until it is flush with the rest of the polish," nail artist Betina R. Goldstein tells The Zoe Report. "There shouldn't be any bumps or dents. Then while using the same nail polish as before, go over the buffed area. Begin adding a second coat all over the nail to make sure it's blended and there are no signs of the smudge. Finally, top it off with a top coat and let dry."
And don't be afraid to speak up and ask for extra drying time in between coats. The extra time is worth it. "Wait until your polish is dried in between layers, especially before applying a topcoat. Applying another layer of polish over an already wet layer will slow down the drying process, creating a bigger window for a smudge haven," Hang Nguyen, a nail artist who works with Kate Hudson, notes.
At-home manicures can smudge just as easily as professional ones, so be sure to chose your devices carefully. "Using quick dry nail polishes are guaranteed to help! Sally Hansen's Insta-Dry polishes are amazing," says Naomi Yasuda, a nail artist who works with Rita Ora and Nicki Minaj. "For drying, cold air helps polish dry down. However, you can use a blow dryer on a cold air setting if you need it to dry even faster."
But if you still find yourself smearing, take some nail polish remover on your fingertip and gently rub it onto the nail, Yasuda explains. This smooths everything out and creates consistency. After that, apply one more coat of polish and another layer of top coat to seal... and it's like your smudge never even happened.
Ahead, shop the best tools and products to save your paint job.