9 Cool Women To Watch If You Want To Dress Like A New Yorker
Silvia Olsen/Shutterstock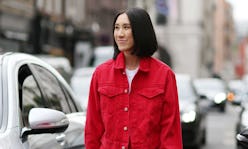 Manhattan is one of those distinctive cities where the culture is so diverse that it's almost impossible to define it with a word. When it comes to how to dress like a New Yorker this rings especially true. Sure, there are a few helpful pointers on how to generally navigate the streets in style like a local (more on that ahead). But in regards to any one specific aesthetic, well, it varies neighborhood to neighborhood and person by person — so much so that the individualism of the city's inhabitants is what defines New York style. In other words, the fashion you'll see if you head up to Harlem will look very different than the street style outfits you'll spot in the East Village, or Williamsburg in comparison to the Upper East Side; that's what makes the city so special.
That said, if you're curious how you can pick up some city-inspired style tricks for your own wardrobe, you'll need to look to some experienced (and stylish) New Yorker residents. Ahead, see how women across different career backgrounds tackle getting dressed each day. From a photographer with a knack for after-hours outfits that don't feel boring to a fashion editor that knocks it out of the park with her workwear choices, you're sure to learn a new tip or two. Also, there's a few shopping picks for each because why not, right?
Experiment With Accessories
Model and all-around cool girl Paloma Elsesser illustrates the effectiveness of a few adventurous accessory choices. Her mix-and-match earrings combined with a versatile charm necklace and tie-dye clutch strike the perfect balance of polished and effortlessly thrown together.
Upgrade Your Denim Collection
New Yorkers have perfected the art of high-low dressing in large part thanks to the commuter lifestyle. Follow Bergorf Goodman Fashion Content Editor Jessica Minkoff's lead and look for jeans with an element of surprise, like her striped tule-embellished pair.
Go For Elevated Workwear
If ever there was a New Yorker who encapsulates the working women of the city, it's stylist and costume designer Shiona Turini. Her polished, professional style is always a good resource for inspiration on ways to keep your 9-to-5 wardrobe feeling just as exciting as your weekend wears.
Colors And Prints Are Your Friends
The notion that New Yorkers only wear black isn't always true, especially when the weather warms up. Stylists Brie Welch and Megan Gray give two perfect examples of ways to incorporate a pop of color or a sizzling print into your outfit — which one will you be trying out?
Sensible Footwear, Always
Unless you're being carted around the city in a private car (and if so, lucky you) a pair of sensible shoes is a non-negotiable. This doesn't mean you can't let your personal style shine through, though. Instagram's Eva Chen shows how a matching set in a bright shade of red looks well-suited with city loafers.
Master The After-Hours
Artist, photographer, director, and Jane of all trades Petra Collins is well known for her eccentric aesthetic. Her after-hours looks, unsurprisingly, mirror this creativity. Rather than reaching for your go-to going-out top, consider something unexpected like a sheer dress or quirky prints.
Closet Full Of Classics
While New Yorkers are adept at setting and wearing trends, they also understand the importance in investing in staples to build looks from. You know the kind — trench coats, leather bags, staple sunglasses. The Webster's Content Director Chloe King is especially skilled at this, as seen on her Instagram.
Prints O' Plenty
With access to some of the coolest shops, vintage stores, and street vendors, New Yorkers are always within arm's reach of amazing textiles. Illustrator Jenny Walton is a master at wearing multiple prints together and making it look effortless.
Stay Weird, Kids
Perhaps the best thing about New York style is that it's all about wearing what feels fun and right for you. So if that means slipping into a puff-sleeve printed dress and carrying a neon bag then so be it. Man Repeller's Harling Ross is one to watch if you're trying to get out of a style rut — her looks are always hitting the aforementioned notes.