How 2018's Viral Fashion Trends Foreshadow What's To Come In 2019
Shutterstock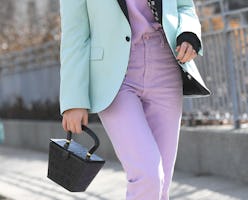 The term "one-hit wonder" suggests a meteoric rise and a bit of a fizzling out. For example, as much as you still remember the lyrics to the chorus of Sixpence None The Richer's "Kiss Me" — and probably only relate K-Ci & JoJo for their '99 hit "All My Life — eventually, the songs became confined to a small corner of your brain and only come to mind in presence of old friends or a dive bar. But does fashion have one-hit wonders? Sure, it happens, but one item doesn't have to define a label, they can also grow and progress after they become a viral fashion trend. The six brands below have proved to extend beyond the one item that they have become synonymous with.
Be it Saks Potts's statement coats or Staud's ubiquitous crop of structured handbags, the brands below likely landed on your radar initially because of a signature item. These are the kind of purchases you can see splattered across social media and in the credits of a celebrity outfit — the term It-item seems to apply here, as well.
In case you've already participated in purchasing a viral piece, or simply prefer to shop for items that don't quite carry the same level of hype, here's what to look for next, and what other items they master in addition to the easiest-to-identify hits. Even though these brands became known for a specific item or aesthetic, there's no fizzle in sight and the below is a bit of proof.
The Hit Piece: Staud's Structural Bags
Perhaps the most exciting part of seeing a new Staud collection is making a prediction on which structural, vintage-inspired carryall will be the It-bag that goes viral. Be it the Bisset bucket style, the see-through Shirley, or the Mini Sadie that was spotted quite a bit this past NYFW, it's hard not to think of these accessories first at the mention of the brand.
Next Try: The Dresses
Those in the know understand that the ready-to-wear collection from Staud is not to be slept on. The designs have ease and playfulness, and nothing captures this more than the spring's 2019's collections resort-ready maxi dresses that boast beautiful colors and subtle details like square pockets and peplum ruffles.
The Hit Piece: Cult Gaia's Ark Bag
If you didn't take notice of Cult Gaia's architectural Ark bag between 2016 and 2017, with all due respect, were you even on Instagram? The bag is signature to the young brand and what helped launched it into several other new categories. Case in point...
Next Try: The sandals
Having launched shoes last year, Cult Gaia's offering for this spring are — not unlike the Ark — quite photogenic. With a rich selection of colors and structural heels, they're statement shoes that don't require a special occasion to wear them.
The Hit Piece: Batsheva's Prairie Dresses
The New York City brand has been a huge proponent of the return of the prairie dress — not only as an of-the-moment trend, but a silhouette that speaks to designer Batsheva Hay's own personal style, as well as celebrities like Erykah Badu, Busy Phillips, and Celine Dion.
Next try: The Blouses
While the prairie aesthetic is a mainstay for the Batsheva line (the latest runway show at New York Fashion Week is proof), the puffy-sleeved tops from the brand offer the trend with a smaller commitment. Featuring prints and shiny textures, these thoughtfully frilly pieces can be pared back with denim if a head-to-toe prairie look isn't your thing.
The Hit Piece: Veda leather jackets
Veda is a New York brand that was founded on the quest to create some of the dreamiest, coolest leather jackets on the market. And as it continues to accomplish that goal with each new collection, there are other categories not to overlook.
Next try: The prints
The first thing that comes to mind when one thinks of leather jackets is not often bright colorful patterns, and yet Veda is masterful at it all. The label's super pretty dresses, with its signature third eye motif and unique, color blocked knits, stand out all on their own. And bonus: They pair well with a moto jacket, too.
The Hit Piece: Saks Potts coats
Once again, the streets outside NYFW events last week proved the power of a hard-to-miss coat, namely one with furry cuffs on the sleeves and a belted waist á la Saks Potts. However, as covetable as those pieces are, they're not all the brand has to offer.
Next try: The logo pieces
It's often the most storied brands whose logos carry the weight, but Saks Potts is an example of a younger name whose white-and-black SP motif is gaining notoriety.
The Hit Piece: Re/Done jeans
Re/Done is a denim brand so it goes without saying that jeans come to mind at first mention. But it makes this list because, if you're not perusing the rest of the site, we suggest you start.
Next try: The Tees
Those who love Re/Done denim likely already can tell you how excellent the tees are, as well. Super soft, classic cut, and, best of all, some of the best cheeky (but non-cheesy) graphic prints around. In sum: Don't write it off as merely where you buy your jeans.