6 Places For A Destination Wedding That Aren't All Over Instagram — Yet
Bogdan Sonjachnyj/Shutterstock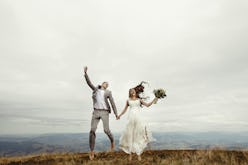 With visits to worldwide destinations and once-in-a-lifetime experiences topping everyone's bucket lists, it's no wonder that traveling to exchange vows is growing in popularity, as well. In addition to extending their wedding day into an unforgettable getaway with friends and family, many couples would rather spend their wedding budget doing more celebrating with fewer people. If you're considering a wedding away from home but you're concerned that all the best options are overdone, not to worry; there are plenty of unexpected destination wedding locations, near and far. So whether you decide to head out of state or out of the country, with the change of scenery, you'll feel like you're a world away.
Ahead, check out six wedding destinations for every budget, style, and party size. From luxe exotic escapes, to charming rustic backdrops, to seaside scenery, you've probably never considered these off-the-beaten-path spots for planning your nuptials. Sorry, that means Tulum is not on this list (hence the term off-the-beaten path).
If you and your S.O. love to travel — and the idea of paring down your guest list in favor of an intimate ceremony — running away together may be the best option. At the end of the day, it's all about celebrating in a way that's true to you.
Abu Dhabi, United Arab Emirates
If you're on the hunt for a truly luxurious wedding experience, set your sights on Abu Dhabi. While you may hesitate because of the distance, Lauren Grech, CEO and co-founder of LLG Events, an international event management and design firm specializing in luxury destination weddings, assures that the Middle Eastern city is more accessible than ever before.
She paints the picture for future brides: "Imagine an exclusive tour of the Sheikh Zayed Grand Mosque in Abu Dhabi, one of the world's largest mosques with 82 white domes, precious white marble floors, and chandeliers with over 40 million Swarovski crystals. [Follow that with] a safari tour in the world's largest sand desert, where you are led on camelback to a glamorous Middle Eastern-style tented site where you can relax in a romantic spa with Moroccan hamman and desert rose rituals. These are just two of the unique, bucket-list experiences that Abu Dhabi has to offer destination couples and their guests."
Irvington, Virginia
Couples who enjoy historic ambiance should look no further than Irvington, Virginia. "For smaller, more intimate weddings, couples will fall in love with the enchanting Hope & Glory Inn, which used to house an elite boarding school in the late 1800s," says Caroline Logan, director of communications for the Virginia Tourism Corporation. The property offers English gardens, 16 guest rooms, a gourmet chef, a floral designer, and an on-site officiant. Guests can also enjoy spa services, including the outdoor garden bath ("a must-do experience!"), as well as charter the Inn's boat.
Looking for more of a resort-style venue? The Tides Inn has options for a luxe waterfront celebration. And no matter where they stay in Irvington, guests and newlyweds can also amble down to the nearby Dog & Oyster Vineyard to enjoy wine tastings and more scenic views during their celebratory stay.
Bora Bora, French Polynesia
If you've always dreamed about honeymooning in Bora Bora, consider escaping there for a destination wedding and romantic vacay two-for-one. "Bora Bora serves beyond elopements to larger groups of friends and family, with bucket-list activities taking over the itinerary," Grech tells The Zoe Report. "With the option of private beach villas or overwater bungalows, the Four Seasons Resort Bora Bora can accommodate destination weddings of all sizes.
"Travel everywhere by boat, from the minute you arrive to the Bora Bora airport. Rehearsal dinners can be held on a starlit beach as the sun sets over Mount Otemanu, followed by a fire dancing show. You can also snorkel through the resort's blue lagoon and learn about adopting a piece of coral — the perfect wedding favor, in our opinion!"
The Catskills, New York
The mountainous Catskill region of New York may not seem "exotic" to locals, but Grech recalls a recent affair where the families of the bride and groom came from afar for an elegant ceremony. "Our couple who married in the Catskills were both from outside mainland U.S., with our bride being from Hawaii and our groom from Holland," says Grech. Although they live in NYC, "they didn't want a cliché city wedding," Grech explains.
So, they headed to the country and created the ambiance they were after. "They brought New York City vendors upstate to transform a traditional barn in the Catskills into a unique, chic fall foliage wedding celebration. The bride chose a roster of vendors who had all been featured in Vogue. Using her love for Great Expectations as inspiration, the bride requested black tie attire for the evening: Envision guests in floor-length gowns and black tuxedos while hanging out in the lush green fields, under Edison bulbs, in the middle of the Catskills with ultimate privacy and exclusivity. It was the perfect fall celebration."
Hilton Head Island, South Carolina
"Although Charleston, South Carolina is a beautiful and well-known wedding destination, Hilton Head Island brings that same southern charm with a more unique, off-the-beaten-path twist," says a rep for the Hilton Head Island-Bluffton Chamber of Commerce. "From one-stop shop hotel venues, to charming rustic outdoor venues and historic plantations, there's something for every type of couple and budget."
Some of the island's dreamiest venues include the Honey Horn, a historic property complete with moss-draped oaks and a covered pavilion for rustic-chic nuptials; The Palmetto Dunes Oceanfront Resort, where brides and grooms can exchange elegant beachfront vows; and the Port Royal Clubhouse for an all-inclusive celebration where friends and family can spend the entire weekend (or longer).
Tuscany, Italy
Cliché, you say? Not necessarily. "We had a couple who were foodies and wine lovers (they even got engaged on a wine-tasting road trip!) and wanted a destination wedding," remembers Grech. "We searched for a unique venue and found a medieval Tuscan village [which had been] transformed by Italian fashion designer Federico Forquet. Within this village was Castello Banfi Il Borgo, a 7,100 acre-property boasting vineyards, olive groves and hotel suites in a castle."
As if the raw location wasn't breathtaking enough, she says that customizing the celebration was what made it truly special. "The foundation was perfect, rich in history, yet still allowed us to create a special design for each night of the three-day celebration."