How Managing Editor Lauren Caruso Refines Her Personal Style Brand For Fall
Lauren Perlstein / The Zoe Report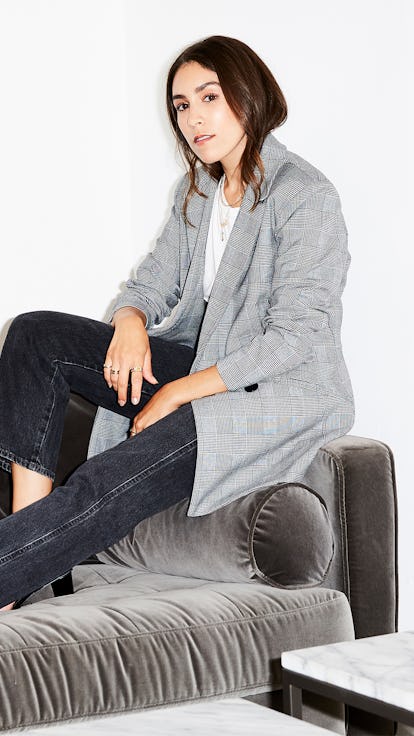 While fall's dipping temperatures may call for an all-new wardrobe, your signature look should remain front and center. For an expert's take on transitioning personal style into the new season, we tapped Managing Editor Lauren Caruso — a fan of timeless fall style with a distinctly minimalist vibe.
In partnership with I.N.C. International Concepts, Created for Macy's, we looked at how the season's top statement pieces still hit on Caruso's classic style sense. "I'm a trend-curious minimalist," she says. "Fall is where my style really comes alive. I love to layer pieces in the same color family (head-to-toe cream is my go-to), and I top every outfit off with a blazer." Ahead, Caruso shares two blazer-anchored looks she'll be living in this fall.
Caruso wears Petite Contrast Stitch Split-Front Wide-Leg Pant and Double-Breasted Blazer from I.N.C. International Concepts, Created for Macy's.
"I experimented a bit with color in my first look," Caruso says. "The marigold blazer is bright, but it almost looks like a neutral when it's paired with black contrast-stitch pants." Whether she's running Monday meetings or weekend errands, Caruso's blazer-centered style is fairly consistent. Still, she says, this bright look would be "a little more conducive to weekend nights."
Caruso wears Double-Breasted Plaid Blazer from I.N.C. International Concepts, Created for Macy's.
"If I had to pick a single item to wear every single day for the entirety of fall," Caruso says, "it'd be the plaid blazer." Paired with a simple tee, dark jeans, and minimalist sandals, the look is bold but still in tune with Caruso's penchant for timeless pieces.
This post is sponsored by I.N.C. International Concepts, Created For Macy's.
Photo: Lauren Perlstein; Art Direction: Diana Weisman; Makeup: Tiffany Patton; Hair: Marcos Diaz.