How Issa Rae's 'Insecure' Hairstyles Subtly Illustrate The Plot, According To Her Hairtylist
Merie W. Wallace/HBO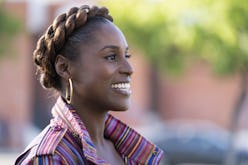 Try as you might, but you'll never get any Insecure leaks from the cast and crew. Not from Kendrick Sampson — aka Nathan, bka The Ghost With The Most — who swung by the Bustle Digital Group offices this week (and was immune to team TZR's relentless flirting). And I'm pretty sure the charm wouldn't work on Issa Rae, either (although we'd love for you to visit, Iss. Have your people call mine). It certainly doesn't work on Felicia Leatherwood, Rae's hairstylist on the show and IRL. Although I tried to use my old sneaky reporter tricks to get some insight on the season three finale, Leatherwood was either none the wiser, or a masterful dodger.
However, I did get the scoop on how Rae's hairstyles illustrate the plot as the show progresses. The script determines everything," she tells me. "As you read the script, you know how she started off — she's with Lawrence, you see her getting her footing. I try to make the hair match what the emotion should be in the particular scene. Every season that we come up on another Insecure, she's growing her hair. Her looks are growing as well."
Indeed, it was a season of growth (lookin' at you, Kelli), with plenty of ups and downs and plateaus. But no matter what, Issa's hair will always look good. "Just to keep it real — most sistas know that it doesn't matter what's going on in your life," she says. "You're gonna make sure your hair is done! You can be sleeping on someone's couch, but guess what? You're gonna look good!"
If anything, that's what fans of the hit HBO series could bet on each week. No one knew whose couch Issa would be sleeping on, or whose bed she'd end up in, or what job she'd end up taking, but everyone knew that her type-4 'fro would be styled to perfection. As for her status with Lawrence, though, the jury's still out on that one.
Ahead, Leatherwood gives us the spoiler-free deets on the products she uses on set, some of the standout styles from the season, and — finally! — how she gets Issa's edges to lay so flat.
Wonderful World Of Curls
"When her coils are popping, I always use a flaxseed gel — it's amazing." For wash and go texture, apply the gel from root to tip throughout your curls, raking it through liberally. To "set" your curls, give your hair a good shake, then air dry or diffuse to keep the shape in place.
Coachella Faux-Hawk
"Never braid or twist without using a cream first, because it softens the cuticles. When you braid the hair super dry, it breaks," Leatherwood suggests. She recommends The Doux's Bonita Afro Balm, a whipped curling cream that helps lock in moisture and shape. You may have spotted some of the brand's products in episode seven.
A Lunch Date With Lawrence
"You couldn't even see the details, but in the back there were three cowrie shells that laced the braid that she had," Leatherwood reveals. "I really thought it looked beautiful on her. After she got over Nathan not calling her and going to see Lawrence, she looked fresh." To maintain that freshness, a good leave-in conditioner always does the trick. It's one of Leatherwood's favorites off set, too.
Crown Twists Fit For A Queen
"We've seen crown braids a lot. My spin was to actually not braid her hair, but do a double two-strand twist," Leatherwood notes. Oh, and those edges? "I get the most emails on how her edges are so slick!" the stylist laughs. "I use a Fonex gel, applied with a little brush." Pro tip: Lay your baby hairs down at night and wrap them with a scarf to set them, or go over them with a hairdryer on low heat if you're short on time.