How To Do Festival Style The Grown-Up Way, According To Fashion Insiders
@songofstyle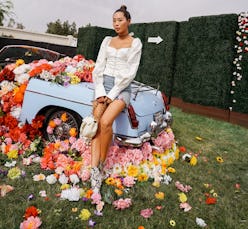 There's no age cap on who can attend and enjoy a musical festival, but when it comes to festival fashion, the primary aesthetic can sometimes skew young. If you feel your best in the standard festival fare — the flower crowns, the chokers, the floaty kimonos, the tiny denim cut-offs and skin-baring crop tops — more power to you, no matter your age. But for those who don't subscribe to the signature boho vibe or are wanting a more grown-up (and fashion insider-approved) Coachella wardrobe, it's about finding pieces that feel event-appropriate and festive, as well as polished and practical.
To start, replace some of the standard festival trends with more unique, modern alternatives. "Instead of cheap metal bra tops, wear lace. Instead of store-bought jeans with holes, get flea-market vintage with original holes. " says stylist Dani Michelle, who has dressed celebs like Kourtney Kardashian, Kylie Jenner, Shanina Shaik, and Kristin Cavallari, among others.
For Michelle, the main factors in creating a good festival outfit are dressing in what you're comfortable wearing and taking a less is more approach. "Some people just try to one-up the norm. Sometimes the simplest outfit looks the best because it fits right and looks effortless," says Michelle. "To have a more refined look, don't overdo it. It can be the right bandana, the right jewelry, the right hat or dress. You don't need every trend on at one time."
Michelle also stresses the importance of factoring in practicality. "When you accessorize for a festival you want to be realistic," she explains. "Are my shoes comfortable? Does my top stay on? Can I pack all my necessities in my purse or backpack? You don't want to be [uncomfortable] when you're really there to just have fun. So when you accessorize think cool and wearable." This season, Michelle is loving combat boots for an on-trend yet entirely sensible footwear option, as well as large sunglasses. (Goodbye tiny frames, hello statement shades.)
Lauren Yerkes, REVOLVE's VP of Buying and Merchandising, also preaches the philosophy of subtlety and sensibility when planning your festival outfits. "Find one statement piece and add basics to it," she recommends. "For example, pair a sequin skirt with a cute basic cropped white tee and make it more about the skirt. Neon and tie dye are currently on trend, but you can just pick one if you want a more elevated look." Yerkes goes on to underscore that comfort is key when choosing shoes. "During festival season, you have to walk so much on the grounds, so it's important that you're comfortable and can easily get around. For this, I'd suggest a pair of sneakers with a cute dress."
Accessories are arguably the easiest way to upgrade your look. Shopbop Fashion Director Caroline Maguire is loving the latest shoe trends to take a Coachella outfit to the next level — specifically, sleek cowboy boots. "There's so much excitement and newness we are seeing this season around footwear in textures, embellishment, embroidery, cuts, and colors," Maguire notes. "I'm obsessed with the modern cowboy-inspired western boot trend — it's the perfect shoe to wear with dresses, jeans and a T-shirt, skirts — anything and everything!"
Inspired by some of 2019's top runways, Maguire is also excited about the new take on tie-dye for the long weekends of celebrating ahead. "Tie-dye is the perfect trend to try out this festival season," she says. "It's all about bright, neon colorways." To ensure the trend feels elevated, look for sophisticated silhouettes or try styling it with polished accessories.
Continue on to see the full list of trends that check all the boxes: stylish, practical, and Coachella-ready. Consider this your definitive guide to elevated festival dressing.
Tie-Dye
Snakeskin Prints
Warm-Weather Leather
Long Jean Shorts
Cowboy Boots
Puff-Sleeve Tops
Neon Brights
'90s Hair Accessories
Combat Boots
Prairie Dresses
Pearls & Shells
Block-Heel Sandals
Boiler Suits
Bucket Hats
Utility Belt Bags
Anklet Flats
Granny Crochet
Coordinate Sets