How To Dress For A Festival When "Festival Outfits" Aren't Your Thing
@claire_most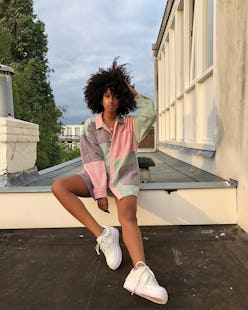 You go to a music festival for well... the music. But, if you've spent a three-day weekend taking in all the tunes, you're also well aware that your outfit is a key component to a successful weekend. All it takes is a day pulling your heels out of the soft grass or overheating in a heavy leather jacket to realize that not only do you want to look great, but you also need to ensure that you'll be comfortable throughout the day. Figuring out what to wear to a music festival is all about achieving that simple balance between photo-worthy and practical.
In the years since festival fashion first rose to prominence, trends have waxed and waned: floaty bohemian dresses, western accessories, even space-age separates that draw inspiration from Burning Man. But, below you'll find five timeless (and easy) looks that are not so much trendy as they are timelessly cool. Armed with these simple outfit combinations you'll be able to enjoy Solange and Mac Demarco without the distraction of discomfort. So, before you slip on your wristband and break out the sunscreen, do a little shopping for the ensemble that will help you survive the wild ride that is festival season — rock on.
Cropped Blouse + Blue Jeans
While you'll want to check the weather app before planning to spend all day in jeans, if temperatures permit you may want to consider keeping things simple and opting for a simple floaty blouse and relaxed high-rise denim. You'll be plenty comfortable in a roomy pair of jeans, but the top feels a bit dressier than a simple t-shirt.
Romantic Maxi Dress + Woven Bag
For the forever romantic, a long maxi dress (preferably in a fun floral print or eye-catching hue) is the ideal festival piece. It's enough of a statement on its own that you won't have to do much accessorizing, just add a summery woven bag and you're good to go.
Swim Top + Long Shorts
Looking to work on your tan while you take in the tunes of Tame Impala? Then consider eschewing a shirt altogether and opting simply for a comfy swim top. High-rise shorts offer a little more coverage so you won't feel totally exposed, and sandals or sneakers are the perfect finishing touch.
Mini Dress + Denim Jacket
If you're worried about your daytime look keeping you warm as evening temperatures start to dip, consider layering a denim jacket over a minidress. Jean isn't so heavy that you'll be irked to carry it around all day, but will surely keep you cozy if things cool off.
Button-Down + Sneakers
If you're looking for a simple ensemble that is laid-back yet polished, try styling denim shorts with a button-down and sneakers. A workwear shirt is polished but cool colorblocking adds a touch of fun. And as for sneakers, well they're never a bad idea when you want to be comfortable.