Honest Beauty Just Launched Liquid Lipsticks — & They're Actually Hydrating
Angel Naval/MARINA PRESS/Shutterstock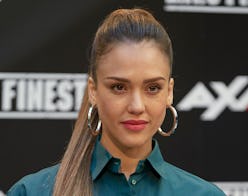 When it comes to finding a lip product that you won't constantly have to reapply throughout the day, liquid lipsticks are typically the best solution. Unfortunately, though, they sometimes leave a little to be desired since they're often drying. So, if you've been on the hunt for an option that'll both stay on all day and keep your lips from feeling like the Sahara, you're in luck: Honest Beauty's Liquid Lipsticks are officially here, and I can confirm that the brand has launched a product that actually does both.
The clean beauty brand, co-founded by actor Jessica Alba, just released seven shades of a new liquid lipstick for $12.99 each on Target, with an exclusive only available on HonestBeauty.com. And its shades run the gamut — so whether you tend to stick to a more everyday, subtle finish, or you like a bright and bold lip, this collection has something for you.
And the ingredients used in Honest Beauty's new liquid lipsticks are just as good as the product itself. Mallory McMahon, Manager R&I, Research and Development at Honest Beauty, broke down how the product was formulated at a launch event for the new lipstick. According to McMahon, in most liquid lipsticks there are two ingredients used: isododecane and film formers. However, the brand replaced both of these ingredients with cleaner options for this product.
Isododecane is a petroleum-based solvent that gives liquid lipsticks that fast-drying effect because it evaporates quickly, while also helping minimize color transfer. But instead of using isododecane, Honest Beauty chemists replaced the ingredient with a cleaner alternative — coconut alkanes, which are derived from coconut, and still evaporate.
And for the film former used to give the long-lasting power, the brand opted for pine tree resins, which McMahon notes stay flexible and moves with your lips. Additionally, the formula contains other effective ingredients, including avocado oil to nourish your lips, as well as hyaluronic acid to hydrate.
And the result, in my opinion, is magical: think a beautiful, pigmented finish, but without the dry, crusty effect. I'm an avid everyday liquid lipstick wearer and can be pretty particular when it comes to the formula, but Honest Beauty's liquid lipsticks met all my expectations and more.
I can attest to the fact that the formula is extremely long-lasting; I put it on around 8:30 a.m and didn't need to touch it up until about 3:00 p.m (it even lasted through my lunch). The product also made my lips feel soft — the effect was somewhat like a lip balm rather than the typical dehydrated lipstick liquid feel — and this luscious sensation lasted through most of the day. And I'd be remiss not to mention the color, which was great, too, although there are different payoffs depending on how much you apply. For a more subtle finish, I recommend one swipe over the lips, or two to three coats for a more pigmented look.
Ahead, shop the latest launch from Honest Beauty.