Hilary Duff Brought This Unexpected Travel Companion On Her Honeymoon
Frazer Harrison/Getty Images Entertainment/Getty Images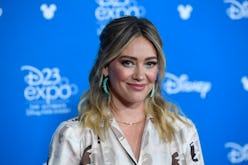 Any good traveler knows that selecting versatile pieces is key when it comes to packing. That said, limiting yourself to one wear-with-anything bag for a getaway is no easy feat, which is why Hilary Duff's honeymoon travel companion is worthy of your attention. While vacationing with her husband in South Africa, the star sported an interchangeable, colorful handbag strap that brought a whole new feel to her bag, proving that you need one, too.
The newly-wed served up major fashion inspiration for her December nuptials with musician Matthew Koma, and now she's delivering fresh outfit ideas with her honeymoon attire, too. The actress' addition of a $138 Salt strap to her bag proves that you can switch up your carry-all without having to stuff an armful of purses into your suitcase.
Launched by two friends, Kacy Lubell and Marla Toplitzky, Salt offers up functional and stylish straps that are inspired by traditional Wayúu Mochila bags. The eye-catching bag-adornments come in a range of color combinations and are handwoven by artisans in Colombia.
Duff opted to add the "Annabelle" strap to her bag while traveling, which brought a colorful twist to her neutral-hued purse with its shades of fuchsia, forest green, violet, and light tan. The "Classic Strap" style is also available in a slew of other colors, including a cherry, white, and French blue combination (Jack Strap), which was spotted on actress Busy Philipps while she was on a trip to Mexico.
In addition to providing you with more options when it comes to the look of your bags, the wider strap silhouette will upgrade the level of comfort, too. While a thin leather or chain strap may dig in during a long day of exploration, this strap will sit nicely on your shoulder as you see the sights. However, if you do prefer a thinner strap, Salt also has woven "Skinny Strap" designs in several color options.
Now convinced you need one of these bag-changing straps for yourself? Continue on to shop Duff's strap as well as other colorful styles that'll change up your favorite cross-body and shoulder bags for your next trip. It's also worth noting that there are select styles you can monogram or personalize with an icon to make your new purchase feel even more special.