This Microneedling-Inspired Blemish Patch Is Created To Preemptively Stop Acne
Courtesy of Hero Cosmetics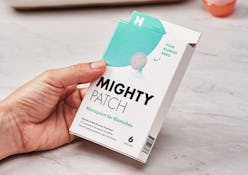 There is a right time to use the new Hero Cosmetics Mighty Patch Micropoint for Blemishes patches, as well as a wrong time. As anyone who's ever gotten a pimple when they least expect it knows (so, everyone), blemishes have something of a biological clock. And Hero Cosmetics' two original patches have you covered — literally — for when a whitehead reaches the surface. But the new Micropoint patch, which launched on Jan. 6, is specifically engineered to halt blemishes in their tracks well before the whitehead has a chance to fully appear on your skin.
Available on Hero Cosmetics' website for $12.99 per six-patch box, the Micropoint patches fill in a gap previously missing in the brand's blemish-healing lineup. "Today's launch helps to fulfill our vision to make products for the entire lifecycle of a pimple," notes a press email quote from Ju Rhyu, CEO and co-founder of Hero Cosmetics. This means you need to be proactive about how you use the new launch: The Micropoint patch is for fledgling acne, whereas the Mighty Patch Original and Mighty Patch Invisible+ treat spots that are fully formed.
The key difference between the new patch and the first two are — as the name implies — the micropoints. 173 per patch, to be exact. "We are always looking at the latest technology for acne care and microneedles have the proven ability to help speed up the healing of acne breakouts," Rhyu continued. "We were compelled by the efficacy and knew that customers would love the way they help speed up the healing cycle."
To do so, Hero Cosmetics' micropoints are formulated with reparative salicylic acid, antibacterial Totarol, skin-soothing beta-glucan, and moisturizing sodium hyaluronate. The patch itself is made out of hydrocolloid that easily adheres to clean skin. And its tiny points don't just sit on top of your face — they penetrate your skin (à la microneedling) and then dissolve after two hours; although Hero Cosmetics recommends using the patch overnight.
You can pick up your own pack of patches on Hero Cosmetics' website, or online at Urban Outfitters. Below, the new Mighty Patch Micropoint for Blemishes.