Hate Running? Nike's Joyride Sneakers Might Change Your Mind
Nike/Fred Gorgis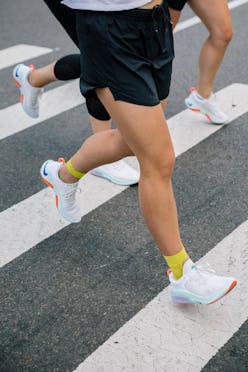 Depending on who you ask, I'm a fairly decent runner. I don't stack up when compared to a marathoner (I've only run one half), but I do try and get in three to five miles a few times a week. So, you can safely assume that over at least a decade of jogging, I've worn my way through a number of running shoes — chunky, minimalist, and everything in between. Recently, I had the chance to try out Nike's Joyride sneakers and review them for myself. Could shoes full of foam beads be comfortable at all? And do they live up to their name?
From the moment I shared a video of the new design, which officially launched on Aug. 15, on my Instagram stories, the questions about the Joyride Run Knit ($180) from current friends and former high school classmates alike all began to pour in. Yes, the sneakers are bouncy. Yes, they're lightweight. No, you can't feel the beads move underneath you. It might be easy to equate the Joyride to wearing bean bags on your feet — the technology really does look similar to those puffy beads housed inside your childhood chair of choice. But, since the beads are actually over-stuffed into the sole of the shoe, you're never slipping or sliding in them — your feet remain squarely rooted to the spot where they hit the pavement.
Typically, I prefer to run longer distances in a more stable shoe — often Asics or Nike's Pegasus, but as suggested by the name, the Joyride is more about making running fun, even for those who claim to hate it. And there the new shoe executes on its promise. The brand details that this proprietary design took intensive trialing. "One hundred and fifty materials were tested before landing on a TPE (a copolymer of plastic and rubber) for the beads," the brand notes via press release. By placing the beads in pods along the bed of the foot, it limits the ability of movement, meaning more stability. "The system creates a dynamic footbed that forms to your foot and feels personalized to you."
I wore the sneakers for the first time on a three-mile jog alongside a friend of mine who prefers dance and barre and doesn't run regularly. Our duo jog wasn't about upping a mile pace, it was about comfortably catching up while enjoying the outdoors and exercise. The shoes were cushy and supportive, but those foam beads were light enough that in the end I wasn't focused on the shoes at all, but on my time spent breezing my way down New York's High Line.
Though this sneaker is the first design to incorporate the new bead technology, the brand plans to continue releases of new concepts that utilize the technology. So, though the Joyride is intended to help make your next jog feel like a total breeze — even for those who don't consider themselves runners — you can plan to test out the new technology for your workout of choice (or hey, even just to chill at home).
Below, shop more of my favorite sneakers for running.