3 Things Fitness Trainer Kirsty Godso Wants You To Wear For Winter Workouts
Stocksy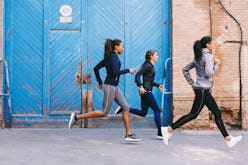 Even the most devoted gym-goers know the impending dread that comes with that 6 a.m. alarm on a dark, cold winter morning. This time of year, there are plenty of reasons not to squeeze that workout in — more parties (and more hangovers to go along with them), less daylight, and the outlook that ideally you'd spend as little time outside as possible when it's below 45 degrees. But, don't let all of that get in your way, to keep up your winter routine — running, spinning, lifting, or otherwise — getting geared up in the best workout clothes for chilly winter weather can make all the difference.
"There's nothing worse than being so cold that you can't move properly or hate every second of your workout," says Nike Master Trainer Kirsty Godso. " My winter workout wardrobe go to items are always Nike Pro HyperWarm tights with a a basketball sock over the top so my ankles are protected. Then I layer the top with a sports bra [and] long sleeve top with a hoodie over the top. If it's really wild weather out there, I layer a wind runner over that also. I'd rather have too many layers that can be taken off than not enough."
When working out in cold weather, Godso suggests looking out for leggings and tops that are snug against the body, and to seek out thermal materials to help keep you warm. "I love HyperWarm because it's made with thermal and sweat wicking materials that keep you warm and dry," she explain. "Layering properly at the base with this type of material can save you from having to lug around an extra jacket or coat too."
Like with your everyday outfits, accessories are also not to be ignored when it come to working out in the cold. Cozy socks and gloves are musts for Godso, especially when warming up, since they offer both comfort and protection from injury. Last but not least, the trainer suggests making sure your shoes can handle the elements. "make sure the sole has a good grip so that if there is any ice you aren't going to be doing an accidental ice skating performance."
Below, shop a range of winter-appropriate workout pieces inspired by Godso's winter workout advice. Armed with the right gear, you won't have to wait until the new year to ramp up your fitness goal, you can kick them off ASAP.
The Gear: Cozy Leggings
Since cold weather can leave muscles tight and prone to injury, dressing correctly is key to a good workout. "I look at breathability of the fabrics and textures for different seasons," says Godso. "It's amazing how much of a difference a HyperWarm tight will make it winter even though they look thin." Opting for leggings that will keep cold at bay will help you nail your workout goals, no matter the temperature.
The Gear: Layered Toppers
While a sports bra or simple tee on its own may be enough in warmer months, take a cue from Godso and try layering up for the temperatures. For rain or sleet, opt for a sporty rain jacket. For a hard chill, wool and fleece are ideal. While she notes that loose hoodies may seem like a good idea, they can actually get in the way. "If you get a tighter fit long sleeve top that has some thermal material, it will keep you warmer and allow you to perform better."
The Gear: All-Weather Accessories
"You want your feet and ankles to stay warm so you have better stability," notes Godso. Choosing a tall sock and cushioned shoe, along with other cold-weather accessories assure that you can survive a jog, jump rope session, or even burpees while out in the cold.