5 Glittery Halloween Makeup Looks — And A Genius Glitter-Removal Hack, Too
Christophe Ena/AP/Shutterstock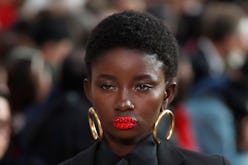 Believe it or not, one of the trendiest Halloween getups this year is a cow costume. And not to shame (or shade) anyone of the black and white-spotted persuasion, but personally, I prefer something glamorous. Something glitzy. Something... glitter. After all, it's what we saw on the runways of Valentino, Simone Rocha, Tadashi Shoji, and Jeremy Scott — and those same moments can easily be doubled as Halloween glitter makeup looks that scream "chic" instead of, uhh... "moo."
Even though glitter is fun, working with it has its risks — no one wants to be picking sparkles out of their eyebrows weeks later — but it is possible to create a flawless, glittering face for Halloween with no sparkle left behind, according to the pros.
"A good idea when playing with glitter is to have a plan," makeup artist Nina Soriano tells The Zoe Report. "Map out your look so you know where you want to apply your glitter."
She also recommends having a set of brushes on hand to use exclusively with glitter products, so as not to contaminate your everyday tools with unwanted shimmer. "I love going to art supply stores and getting inexpensive brushes with synthetic hairs, which are great for applying glitter," she tells me.
The final prep step? "Do the rest of your makeup first," makeup artist Gilbert Soliz, who glammed the models at Marc Jacobs' most recent runway show, writes to us via email. "Glitter tends to adhere onto texture better then a raw surface."
Ahead, five glitter-filled makeup looks made for Halloween — and tips for recreating them, straight from the experts.
All-Over Color
"Don't be afraid to make double uses out of your makeup," makeup artist Neil Scibelli advises The Zoe Report. "There are amazing eye glitters that you can use on your lips, and vice versa." Or you can use glitter all over, like at Giambattista Valli's fall 2018 show.
If you'd prefer keeping the glitter in one central location, like your lids, makeup artist Sean Harris recommends using the same corresponding color underneath the glitter "to get the color to pop," he says.
Loose Glitter
"If you're doing glitter on the lips or your eyes (like at Simone Rocha), try using a stickier, tacky lip gloss as your glue," Scibelli suggests. "MAC Lipglass is a great, thick clear gloss that you can use as a base, and then apply your glitter over it. You can also use sheer glosses on your eyes or face, not just clear."
Makeup artist Keita Moore, who works with Kelis and Mariah Carey, likes gel, too — and also relies on MAC Prep + Prime Fix+ Spray for finish. "But if you want it to stick to the eye longer, I love using Make Up For Ever Aqua Seal or Inglot Cosmetics Duraline," he says. "The glitter won't budge."
Subtle Shimmer
You don't have to go overboard with glitter — subtle, shimmery shadows and eyeliners work just as well.
"I have been loving Stila's Glitter and Glow Liquid Eyeshadows," Scibelli says of the fan favorite, which was also used at Badgley Mischka SS19. "The application is so easy, because it's already in a liquid form and the glitter isn't too big or overly chunky." And though the product is meant for eyes, there's no rule that says you can't wave the wand over your cheeks, nose, and brows, as well.
To add definition, reach for Charlotte Tilbury Colour Chameleon Pencil in Champagne Diamonds. "This soft glitter eyeshadow looks beautiful all over the lid, or even just as an accent colors," raves Scibelli. "I've used it on clients for the red carpet, and it gives a really gorgeous glow to the eyes."
Oversize Jewels
Opt for loose sequins and crystals on the lids, lips, or all over your face (like at Harlem's Fashion Row, above) for high-impact shine, Soliz advises. Use a cream base first, or glitter glue like Anastasia Beverly Hills Glitter Adhesive. Be sure to apply your stones with a sturdy pair of tweezers for optimum application.
Small Crystals
"Sequins and crystals are much larger in size and will reflect the light better then glitter," Soliz tells us. (They make less of a mess, too.) "You can glue them to the face or eyes using lash adhesive. Try applying them over bold wing liner for a modern cat eye!" Or directly on your lips, as seen at Valentino... just be sure to eat lunch before your party.
How To Get It Off
To remove all that glitter and adhesive, Soliz suggests starting with a makeup wipe, then a gentle cleanser that dissolves makeup. Then, wash your face in sections to avoid rubbing glitter everywhere, Scibelli says, and avoid oil-based cleansers, since they don't pick up glitters well.
Finally, every single expert interviewed for this story had the same genius glitter removal hack to share: Tape. "Roll a piece of tape up and and blot it over the glitter area, and the glitter will stick to the tape easily," Moore tells me. Note that this works best post-cleansing, when your face is dry.