Hailey Baldwin & Justin Bieber's Wedding Party Is Officially Confirmed For Sept. — This Time For Real
Broadimage/Shutterstock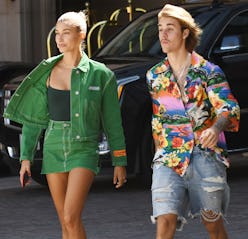 The Biebers have been married for so long now that some people have actually forgotten that an official reception was supposedly in the works. Perhaps surpassing the hype was the couple's scheme all along. In any case, Hailey Baldwin and Justin Bieber's wedding party has been confirmed for Sept., exactly one year after they secretly exchanged vows at a New York courthouse, much to fans' chagrin.
The earth has almost completed a full orbit around the sun and here we are, still talking about Baldwin and Bieber's wedding. The two got engaged in the Bahamas in July 2018 after dating for only a month. Bieber confirmed the engagement in a lengthy Instagram post shortly after, but as for the rest of their marital matters, the details have been kept private.
The couple snuck away to a courthouse for a secret wedding two months later, a disappointment to every fan who yearned to see Baldwin in a dress (*raises hand*). They assured their families and the public that there would be an official reception, indeed, probably in Jan.
When that passed, they sent out Save the Dates for Feb. 28. Then, it was pushed back to April, then May. Finally, a source is confirming that Bieber and Baldwin's wedding party is actually happening in Sept., People reported.
Baldwin has expressed in the past that she fantasizes about a destination wedding. "I just picture lights strung everywhere," she told The Cut in a Sept. 2018 interview. "I think having it in the woods would be so beautiful."
In that interview, she said her sister would be her bridesmaid and Justin's sister a potential flower girl. No details about the venue or the date have been revealed yet, but one might suspect that the party will be held on their anniversary.
The bride has reportedly been working with a planner since May, so it's bound to be a contender for the wedding of the year. Unlike their courthouse jaunt, the wedding will most definitely be centered around religion this time, which the couple has promised from the start.
Elle reported earlier in the summer that about 300 guests are expected to attend. Drake, Chris Brown, Kylie Jenner, and Travis Scott were all invited, so you can bet it's going to be a star-studded event.
Most importantly, Baldwin will be wearing a proper wedding dress this time around. She told The Cut that she had already settled on a designer back in Sept., although that's been kept under wraps, too.