Every K-Beauty Buy You Can't Miss From Glow Recipe's Black Friday Sale
Glow Recipe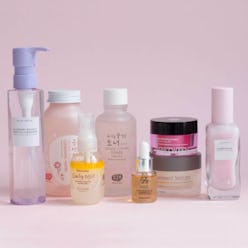 The success of viral, 10-step Korean beauty routines rely on the right lineup of products. But you may not know where to even begin when shopping the extensive array of of K-beauty products for glass skin, or know where to find the elusive cosmetics. Founders and industry veterans Christine Chang and Sarah Lee saw the need for a curated Korean beauty destination, and created Glow Recipe as a one-stop-shop of natural Korean beauty products — which will be majorly discounted during the Glow Recipe Black Friday sale.
There has never been a better time to try out this global beauty phenomenon. Starting Nov. 21 and ending Nov. 26, the sale on K-Beauty brands includes up to 40 percent off cult products from Blithe, J.One, and many more, with 25 percent off deals site wide using code BLACKFRIDAY25 on select items. And products are already selling out, seeing as Glow Recipe not only curates the Korean beauty community's often hard-to-find favorites, but also focuses on natural, cruelty free K-beauty products.
Shopping the vast collection of products is easier than it may seem, even for people whose beauty routines involve way less steps than 11. Glow Recipe's website includes a straightforward K-beauty routine guide, which breaks down Glow Recipe's products into beginner-friendly six steps — makeup removers, cleansers, toners, treatments, moisturizers, and masks, in that order.
Glow Recipe also marks its best products with a Glow Game Changer seal of approval, and lists thoughts about each product under an Our Insights tab beneath the regular details, going above and beyond the typical online makeup shopping experience.
One of the Glow Game Changers on sale for 40 percent off is a Blithe Patting Splash Mask in Soothing Green Tea. Regularly retailing for $45 and on sale for $27, this splash mask is an easy gateway into K-beauty. Unlike masks you can leave on for 20 minutes, you literally only splash this lactic acid mask onto your face while you're in the shower, then pat in what's leftover. After patting, rinse and repeat. Not convinced that process will rejuvenate your skin like thicker masks left on for longer? The green tea splash mask from Blithe has over 90 reviews on Glow Recipe, and 81 give the mask five stars.
The hydrating anti-wrinkle J.One Jelly Cream is another 40 percent off Glow Game Changer, and potentially a new way to moisturize that will have you ditching your old creams. The product has a light, gel texture composed of natural oils for skin brightening and anti-aging fullerene. The jelly cream, on sale for $25.20 from $42, comes from actress Ha Ji-won's iconic J.One cosmetics line, and is listed as a lighter version of the cult J.One Jelly Pack.
This year, spend your Black Friday shopping deals on the makeup that's taken over the cosmetics industry and shaken up the way the world sees skin care. Continue scrolling for seven K-beauty products deeply discounted for Glow Recipe's Black Friday sale, then visit the online beauty boutique to continue browsing.