Glossier's New Eyebrow Product Is *Very* Different From Boy Brow — Here's Why You'll Want It
Courtesy of Glossier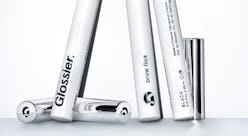 It's no secret that Glossier's Boy Brow took the beauty world by storm. Last year, one tube of the creamy eyebrow pomade sold every 32 seconds, and it doesn't seem like the popularity of Glossier's best-selling product is slowing down any time soon. So, when Glossier's new Brow Flick landed online June 12, it may've had people wondering how exactly a new eyebrow product would fit into the beauty brand's repertoire. After all, nothing about Boy Brow was broke — why fix it?
Read more: Brands Like Glossier With Cool, Simple, & Affordable Products
Here's the thing, though: Brow Flick isn't the next generation of Boy Brow. While they're both means to an end (aka perfect, natural-looking eyebrows), the two products get there in very different ways. And that's a good thing, too. While Boy Brow's pomade grooms and thickens the hair you already have, Brow Flick's water-resistant formula fills in patchy spots and sparse eyebrow tails. The $18 product resembles a sharp brush-tip marker; you use the pointed applicator to draw on fine, hair-like strokes of pigmented copolymers that quickly blend in with the rest of your brows.
You don't have to pick your shade from a whole new lineup of colors, either. Brow Flick comes in the same three brow-matching shade as Boy Brow: "Blond," "Brown," and "Black." And yes, this was a purposeful move on Glossier's part — because you can use Brow Flick and Boy Brow together.
And you actually start with the new product. Use Brow Flick to define your brow and fill any gaps in your arch's natural shape; the formula dries down in around 15 seconds. Next, swipe on a layer of Boy Brow to adjust and lock the shape into place. Don't need any added color? Layer on Boy Brow in "Clear" if you're only looking for its hold.
That's all there is to it. Perfect, Glossier-style brows, in less than five minutes. To make your life even easier, the brand also took this launch as a chance to introduce a new Glossier value set. The Brow Flick + Boy Brow Duo retails for $30, $4 off the price of buying the two products separately. (So you may as well grab an extra mascara or lipstick too, right?)
Alright, you may not need a set — judging by its popularity, you probably already own your own shade of Boy Brow. Or, you may only need the help that Brow Flick's precise applicator can provide. If so, keep scrolling down. A link to buy Brow Flick on Glossier's site is ahead.