Glossier Is Officially Launching A New Beauty Brand In 2019
Courtesy of Glossier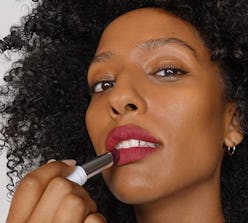 Glossier is the reigning queen of getting fans excited about new launches, so it comes as no surprise that its latest coy announcement is no exception. On Feb. 22, the cult-favorite beauty brand sent out a promo email with the subject "New brand coming soon" and a cryptic image of its logo on top of the word "play" over what appears to be a silky green fabric, leading to a new Instagram account, @glossierplay, that is quickly gaining thousands of followers. The Zoe Report reached out to Glossier for comment, who confirmed that Glossier Play, a new beauty brand, is officially launching in March 2019.
Further than revealing that it's been two years in the making, the brand has not given any more details on Glossier Play. And with so little information about what's to come, fans have, of course, starting throwing out their own guesses as to what the new brand will entail. In the comments of the first (and only) post on the brand's new Instagram account, fans quickly moved past the stage of astonishment and excitement to speculating about what it will be. The guesses? Some people wrote that they thought it would be heavier makeup than the "natural" vibe Glossier is so known for; others are wondering if it's related to sex.
Naturally, a reddit thread was immediately started to continue the conversation, where some users are echoing the thoughts of the brand's Instagram commenters, predicting lingerie or something "sexy." Their predictions may have something to do with the fact that the logo in the email was set on a silky fabric, or simply because of the name itself; however, there is no confirmation on whether any of these guesses are correct as of yet, leaving fans to keep wondering — and continue building the excitement for this unexpected announcement.
An article from Jezebel in August 2018, which states "A report from Bloomberg reveals that Glossier, which is already huge on Instagram, wants to a build a social platform of its own to drive sales," is also something to consider. While of course Glossier has not revealed any details about what Glossier Play will actually be, the brand is well known for its ability to cultivate a community and to get people talking about its products — which a social platform of its own would obviously help with.
Whatever the case, there's absolutely no doubt that Glossier fans will be waiting with baited breath until March. Thankfully, that's not far off — but until then, you can follow @glossierplay and sign up for email updates at this link to watch this new launch unfold. Until then, let the guessing games commence.