Gloria Vanderbilt, Iconic Designer & Denim Legend, Dies At Age 95
David Buchan/Variety/Shutterstock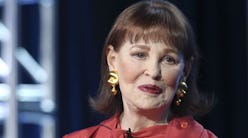 The fashion world has lost a legend. Early Mon. morning, it was announced that iconic designer, heiress, and philanthropist, Gloria Vanderbilt, died at the age of 95. Her son, CNN news anchor, Anderson Cooper, announced her death on June 17, airing an obituary for her on CNN.
"Gloria Vanderbilt was an extraordinary woman, who loved life, and lived it on her own terms," Cooper said in the statement. "She was a painter, a writer and designer but also a remarkable mother, wife, and friend," he added. "She was 95 years old, but ask anyone close to her, and they'd tell you: She was the youngest person they knew — the coolest and most modern."
Though Vanderbilt is best known for her iconic stretch-fit skinny jeans of the '70s, she didn't immediately start out in fashion design. Rather, she actually began her professional career as an actress, making her stage debut back in 1954 in a production of the romantic drama, The Swan (which actually inspired the logo she later used as a designer).
Between 1954 and the early 1960s, Vanderbilt made appearances on numerous television shows, including Playhouse 90, Studio One in Hollywood, and The Dick Powell Show, before eventually focusing her attention on other creative outlets: writing, and then drawing and painting, the latter two of which inspired her career as a fashion designer.
Vanderbilt used her artwork as inspiration for her fashion and textiles designs, earning the 1969 Neiman Marcus Fashion Award for her work before launching her own ready-to-wear label in the mid-'70s.
Vanderbilt's fashion career really kicked off in 1976, when Glentex commissioned a collection of her paintings for their scarf designs. That same year, she also founded her own ready-to-wear label, GV Ltd., and with the help of Mohan Murjani, built a fashion empire off of a pair of perfectly-fitting skinny jeans — an idea she got while she was designing blouses for Murjani.
"There was a merchandising genius called Warren Hersch, and he had to manage the company," Vanderbilt told People back in 2016. "We were talking one day and he said, 'Murjani's, they've got all this denim fabric stored away in Hong Kong.' So I said, 'Why don't we make jeans, a really great fit jean?,'" she said.
That moment marked the beginning stages of Vanderbilt's game-changing jeans, crafted from a ultra-comfortable stretch fabric, tapered to a perfect fit, and stamped with her signature swan motif on the front pocket. They became an instant hit, with Vanderbilt helping to fuel the success by acting as spokesperson — something that was quite uncommon for a designer at that time.
"If you were around in early 1980s, it was pretty hard to miss the jeans she helped create, but that was her public face — the one she learned to hide behind as a child," Cooper said. "Her private self, her real self — that was more fascinating and more lovely than anything she showed the public."