Carrie Bradshaw Would *Totally* Wear Giuseppe Zanotti's Newest Sandals
Snap Stills/Shutterstock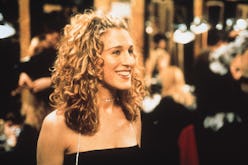 There are few television characters who've delivered as much style inspiration as Carrie Bradshaw. As any Sex and the City devotee knows, at the heart of a Carrie-approved look is an incredible pair of shoes. Which begs the question — what would she be strutting down the Manhattan sidewalks in today? Well, all it takes is one look at Giuseppe Zanotti's new collection of standout shoes to know they would capture the New Yorker's attention.
Known for its eye-catching, fashion-forward shoes, the luxury footwear designer's Spring/Summer 2020 range celebrates sensuality and self-confidence with a lineup of swoon-worthy styles. At the center of the new collection are four core silhouettes that are the shining stars of the Italian brand's new campaign.
"For Spring 2020, I wanted to create a kind of stylistic clean slate," said founder and designer Giuseppe Zanotti when describing the collection. "This campaign conveys my ethos of beauty and strength; style and craftsmanship."
Each of the four styles is feminine, strong, and glamorous, but the one that would arguably land a spot in Bradshaw's enviable closet first would be the "Lilium." Ringing in for $1,350, the elegant stiletto sandal is one that'll have you dressing from the feet up. The artful style boasts an oversize leather-constructed lily embellishment on its thin, multi-strapped silhouette.
Courtesy of Giuseppe Zanotti
Courtesy of Giuseppe Zanotti
However, if you're looking to make more of a subtle-statement, you can opt for the "Catia" for $795. The barely-there strappy stiletto's clean, minimal design will allow it to make an impact with pretty much any outfit you throw at it. Meanwhile, if you prefer a chunky high-heel, you can turn heads in the "Bebe" platform, which has been reimagined for SS20 in a shimmering gold.
Rounding out the foursome is the "Phoebe" — a gorgeous sandal that's ideal for days when you want to skip a sky-high heel for something lower. The block-heel style, however, doesn't need the height to be noticed, as its T-strap design and crystal-encrusted floral brooch-adornment will do all the legwork.
Courtesy of Giuseppe Zanotti
Courtesy of Giuseppe Zanotti
While not all of the latest styles are up for grabs online just yet, there are several, including the "Lilium" and "Catia," you can bring into your collection now. When it comes to the remaining core styles, you'll want to make sure to continue to check the website for when they become available for purchase.
Continue on to begin your shopping, and scoop up these super-chic styles before anyone else.