Gigi Hadid Can't Stop Wearing This Gold Necklace — And It's Still Available
Thierry Chesnot/Getty Images Entertainment/Getty Images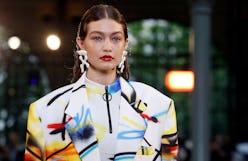 Sometimes, the stars align and the sartorial gods bless you with one perfect staple that miraculously meshes with every look you wear. Jewelry especially can become a virtual extension of the body, rarely or never being removed — save for a shower or a dip in the ocean. And despite being able to get their hands on practically any brand in the world, supermodels aren't above staying loyal to one star piece, and Gigi Hadid's gold necklace is a prime example. From her 24th birthday party to Paris Couture Week, Hadid has styled the 18ct gold-plated chain countless times over recent months, even wearing it to a birthday celebration at Disneyland on Sat.
Accenting a two-piece tie-dye set with the moderately-priced necklace from Missoma, Hadid proved how a few star accessories will put a polished spin on even the most laid-back look. Strolling through "The Happiest Place On Earth" in Extreme sneakers from ASH, the model rounded things out with a top knot, futuristic sunglasses, and a grey sweatshirt around her waist. Bella was all aboard the sporty-chic train as well, and appeared comfy but stylish in high-waisted sweat shorts and a UNIF cami with leopard print trim.
Versatile enough to gel with a satin suit, a graphic tee and everything in between, the sculptural chain adds a welcomed touch of edge to so many looks. Hadid has used it as a foundation to stacked shells and beaded pieces, and has also worn it alone with that basic white ribbed tank that's currently trending with the fashion set.
Whether you're serving high street or high fashion, the model-approved staple is a timeless investment you won't retire anytime soon. Shop Hadid's favorite style below, then check out The Zoe Report's selection of similar options, ahead.
Shop The Look