Gigi Hadid's Shorts Are 100 Percent '90s Dad (In The Best Possible Way)
Philippe Blet/Shutterstock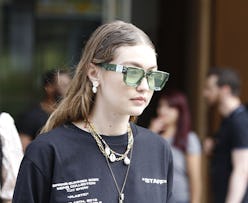 If someone were to ask Gigi Hadid who her style muse is, she'd probably say a dad from the '90s. Chunky sneakers, gold chain necklaces, socks with sandals and all the other fashion faux pas that used to embarrass you in the school pickup line are now part of this supermodel's shtick. Case in point: Gigi Hadid's denim cutoff shorts.
Just when you thought this 24-year-old's style couldn't get any more polarizing, she steps out in something that makes you literally cringe, then you inevitably warm up to it because if what Gigi Hadid wears is wrong, you don't want to be right.
That initial adverse reaction to her clothes is only natural, though, for those who grew up in the decade when her favorite pieces first hit the scene. The way Hadid sports high socks with her Birkenstocks is enough to trigger a girl's PTSD, but somehow every surprising retro trend the model resurrects from the dead turns into a thing.
This means the old-school denim shorts she just wore are probably gearing up for a major comeback (and this time, they're not just for dads). The model tucked her black t-shirt into a pair of light-wash shorts whose frayed hems hit just above the knee during a trip to the art store on Weds.
As vintage as they look, Hadid didn't actually pick up these shorts from the thrift store. Rather, they're by the Aussie label Nobody Denim and, unlike most things the model wears, they don't cost a fortune.
She paired the statement bottoms with a slouchy tee so retro it has '90s in its name. Then, she completed her low-key off-duty look with her favorite jewelry, Missoma's gold Axiom chain and an evil eye necklace by Jacquie Aiche, and sporty black sneakers.
Believe it or not, there are a number of cutoff shorts exactly like these currently on the market, so be the first to follow Hadid's lead and add them to your weekend rotation.
Shop The Look