Gigi Hadid's Pants Make A Perfect Case For Gender-Neutral Dressing
Theo Wargo/Getty Images Entertainment/Getty Images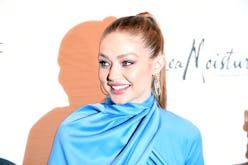 Your favorite fashion girls are helping to bridge the gender gap in every aspect. The way they're always running around in men's clothes and modeling in menswear shows kind of makes you want to "shop outside the box" (get it?). Gigi Hadid's Burberry pants are the perfect place to start.
While her sister-bestie Bella has been busy sipping champagne with Kendall Jenner in the South of France, the elder Hadid has been laying low at home in New York City. For the first time pretty much since her Met Gala appearance, the supermodel was spotted going out in one of those impeccable street style looks she's known for.
The 24-year-old — who is currently gracing the cover of Vogue Mexico looking like a spitting image of Brigitte Bardot — left her Manhattan apartment wearing an off-white cashmere hoodie by Mandkhai, which she tucked slightly into her brown drawstring trackpants.
Hadid completed the outfit with a pair of Dr. Martens combat boots (her go-to), a baseball cap, retro sunglasses, and a belt bag flung over her shoulder — overall a casual-cool look to suit her usual aesthetic.
It's safe to say the patterned pants, adorned with Burberry's signature monogram stripe, were the MVP of the model's off-duty ensemble.
The cotton joggers are featured in both the label's men's and women's collections — a prime example of a solid unisex piece. Hadid and the rest of her model crew do gender-neutral dressing all the time. Kendall Jenner, for instance, recently hopped off the airport in Nice ahead of her Cannes Film Festival debut wearing a full-on neon-green two-piece set by menswear-only brand Casablanca.
During Milan Fashion Week, Prada tapped Hadid for its menswear catwalk (Emily Ratajkowski and Kaia Gerber joined a line of guys on the runway, too). Needless to say, these models could care less about which department their clothes come from as long as they look good, and they do.
So, the next time something from the men's department catches your eye, channel Hadid and go for it. Her trackies and others like them, ahead.
Shop The Look