Gigi Hadid Reinvented The Canadian Tuxedo For Her Denim-Themed Birthday Party
Astrid Stawiarz/Getty Images Entertainment/Getty Images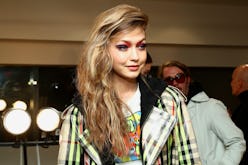 There's a reason almost every supermodel in the industry was sporting all-denim at L'Avenue in New York City on Mon. night. Canadian tuxedos were the dress code for Gigi Hadid's 24th birthday party and you probably can't think of a more fitting theme for this street-style queen. She and all her cool-girl friends put their best trend-forward twists on the age-old outfit formula for the celebration.
Olivia Culpo, Taylor Swift, and Ashley Graham were just a few of the notable guests who filed into the luxe French eatery at Saks Fifth Avenue for one of the most important birthday bashes of the year.
Judging by their Instagram Stories, there was a photo booth, a bottomless supply of tequila, and a playlist full of Britney Spears, who actually might have been the inspiration behind the party's theme.
According to Harper's Bazaar, those iconic all-denim outfits Britney Spears and Justin Timberlake wore to the 2001 American Music Awards were Hadid's muse. The birthday girl sported her best Canadian tuxedo, which consisted of a denim jacket over a white crop top, slightly distressed, straight-leg jeans, and her favorite Dr. Martens combat boots — a classic Gigi Hadid look from top to toe.
In fact, Hadid's whole family took the denim dress code seriously. Being the supportive (and immensely trendy) sister she is, Bella went full-on triple denim in flared jeans and a very dad-inspired button-up shirt over an asymmetric denim corset. She paired the look with dramatic hoop earrings and yellow lace-adorned combat boots.
The famed model sisters' parents, Yolanda and Mohamed, both sported all-denim two pieces, too, while Olivia Culpo and Ashley Graham turned up accidentally twinning in oversized jean jackets-turned-dresses.
You don't need a themed party invitation to wear Hadid's double denim, though (obviously, because the model wears almost this exact same outfit in her everyday life). Copy her birthday look with The Zoe Report's favorite Canadian tuxedos, ahead.
Shop The Look