Gigi Hadid Is Reportedly Expecting A Child With Zayn Malik
Gotham/GC Images/Getty Images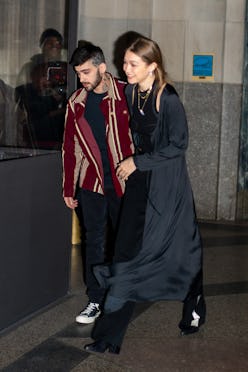 After spending her 25th birthday at home with her family on Apr. 23, Gigi Hadid now has more reason to celebrate. The model and her partner Zayn Malik are expecting a child. Gigi Hadid's pregnancy was reported on Apr. 28 by Us Weekly and TMZ, and was confirmed by Hadid herself on Apr. 30 in an interview with Jimmy Fallon for The Tonight Show.
"Obviously, we wished we could have announced it on our own terms but we're very excited and happy and grateful for everyone's well wishes and support," said Hadid, who is reportedly pregnant with a girl. "Especially during this time, it's a nice silver lining to be able to be home and be together and really experience it day by day."
Earlier in the day, the news was confirmed by Hadid's mother Yolanda who spoke to the Dutch celebrity news show RTL Boulevard. "Still shocked our little secret got leaked to the press," Yolanda told the show according to a quote released on Instagram. "Of course we are so excited. I'm excited to become Oma in September, especially after I lost my mom so recently. But this is the beauty of life, one soul leaves us and a new one comes in. We feel very blessed."
Malik and Hadid began dating in 2015, and even graced the cover of Vogue together for the Aug. 2017 issue. But the duo split up and got back together in 2018 and 2019. Though Gigi Hadid dated Bachelorette star Tyler Cameron in the fall of 2019, by Jan. 2020 Gigi and Zayn were back together again. Hadid most recently shared a post to Instagram of herself with both Malik and her sister Bella Hadid celebrating her birthday while staying at her mother's farm in Pennsylvania.
Hadid touched on the topic of having children in an interview with i-D that was released in February, "I think that as I get older... well one day I'll start a family and I don't know if I will always be modeling. I love the creative side of fashion, it's so fulfilling. The people I work with make me so happy, I'm so lucky to be around them. But who knows? Maybe I'll take up full time cooking!"
Though a full-time chef gig may be in Hadid's future, for now, she remains at home with her family, where she's still modeling — via Zoom.
Editor's Note: This article was updated at 7:30 p.m. ET to include a statement from a Gigi Hadid.